Active Shooter at Delta State University: Latest Details in Developing Story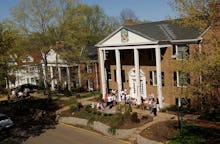 On Monday, a gunman fatally shot Delta State University history professor Ethan Schmidt in his university campus office in Cleveland, Mississippi. The school was on lockdown Monday as the person of interest, another DSU professor named Shannon Lamb, was still at large. A police chase with Lamb ended when the suspect fled from his car and shot himself in the woods, according to the Huffington Post.
According to the Mississippi Business Journal, the Bolivar Deputy Coroner confirmed at 11:45 a.m. history professor Ethan Schmidt was killed in the campus shooting. 
The professor was the only victim being reported from the active shooter situation. Officials believe Lamb may have also killed a woman he lived with in Guatier, Mississippi, on Monday morning prior to the Delta State University shooting.
News broke of an active shooter when the school's Twitter page posted a series of tweets confirming a shooter was on campus near the school's Jobe Hall. The school remains in lockdown as Cleveland police and the Bolivar Sheriff's Department investigate the scene.