Here's Why Couples Are Saying "I Do" to Weed Weddings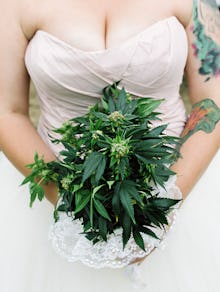 Most couples getting married opt for an open bar to help encourage their guests to get jiggy with it on the dance floor. (Does any adult over the age of 35 actually do the Cha-Cha Slide if they're sober? No, they do not.) But now there's a new way to get your wedding guests to unwind: cannabis bars. Imagine: Instead of watching your uncle juggle his scotch and soda while doing his best Mick Jagger impression, you got to watch him sit in a tent filled with marijuana smoke, sharing a blunt with the 81-year-old grandmother of the bride. 
Such a scene describes the 2015 nuptials of John Elledge and Whitney Alexander, who recently tied the knot in a weed-themed wedding (featuring a marijuana tent and a "wedding budtender") on an Oregon Christmas tree farm. Elledge and Alexander's wedding went viral due to the novelty of their wedding. But with legalization efforts going strong around the country, wedding planners say that we'll likely be attending similar cannabis-themed ceremonies in the future.
Puff, puff, pass: In states that have already legalized recreational usage, such as Colorado, Washington and Oregon, local wedding planners are catering to ganj enthusiasts who want to make their nuptials a little chiller. Blogs such as CannaBride provide resources for brides looking for "4/20 friendly vendors," such as photographers and caterers. There's also Edible Events, which describes itself as "Colorado's premiere cannabis event production company."
"As the end of prohibition occurs nationwide, we will see cannabis increasingly offered as a substance for celebrations," Jane West, the owner of Edible Events, told Mic.
Lauren Gibbs and her fiancé are currently planning their wedding, which will incorporate cannabis into the festivities. Gibbs is the social media director of Women Grow, a group that seeks to cultivate and empower the next generation of cannabis industry leaders. As she told Mic, Gibbs chose to have a wedding featuring cannabis because marijuana has had a transformative effect on her life. She also wanted to pay homage to her and her fiancé's current home state of Colorado, where partaking in the green is something of an unofficial pastime.
"Because a lot of our guests are coming from out of state, we wanted to give them an authentic Colorado experience," she told Mic. That means hosting "an outdoor wedding at a dude ranch in the mountains with cannabis served. And s'mores. S'mores are so good."
Gibbs was inspired not only by other marijuana-themed parties she's been to, including a Halloween shindig that served munchies instead of shots and ended with everyone hugging, but also a recent experience at a wedding with an open bar, which ended with many of the guests vomiting. "I don't really drink and I want to be able to let loose at my wedding," Gibbs said.
To ensure wedding celebrants party responsibly, she and her fiancé hired an expert budtender to tend the cannabis bar, who will answer questions and figure out what the guest wants to get out of their high. As far as how guests can consume the cannabis, they'll have many different mediums, including vape pens and classic pre-rolled joints. She's even trying to get some cannabis salts to put in one of the three outdoor hot tubs at the venue so people can enjoy a non-psychoactive, muscle-relaxing high. 
The one thing she won't be serving? Edibles.
"Edibles are really easy to overindulge on and have a bad experience, especially with novices. We don't want people freaking out and having a bad experience," she told Mic.
Changing preferences: Kelly Cline Sissel, 30, also didn't serve edibles at her July wedding in Blackhawk, Colorado. "I didn't allow any food infused with cannabis because that's usually how people overdo it," she told Mic. But when she got engaged, she knew she wanted to serve cannabis at her wedding because she and her husband Chris are "avid cannabis users."
"My husband started smoking at 25 because he has degenerative disc disease and uses cannabis for medicine, and I've been a recreational user since before it was legal," Sissel said. "Plus, we knew most of our guests would prefer cannabis over alcohol."
Because minors were invited to the wedding, Sissel and her husband divided the party into three sections: a kid-friendly area with games and activities, a dance-floor surrounded by "stoner-friendly" food like Little Debbie's snack cakes and chips and a "21 and older" area with pre-rolled joints and dabs (concentrated doses of cannabis that are made by extracting THC).
Although both Sissel and Gibbs said they were concerned that their theme would alienate some guests, worries about judgmental out-of-town guests or parents didn't put a damper on the festivities. "I had no issues," said Sissel. "I had some non-smokers from out of town hang out in the 21 and up area and get a big kick out of the whole thing."
As far as the expense associated with having a cannabis bar at your wedding, it can range widely. Sissel said that they grew their own weed, so it's hard to say, but estimated "probably around $300 for the marijuana." Plus, many guests brought their own homegrown cannabis to the festivities.
Gibbs said that while it would be easy to work for all sorts of budgets, most options are likely cheaper than the traditional open bar. "Most people could easily fit something modest into their budget, such as placing $200 worth of pre-rolled joints in a self-serve Mason jar by the bar," she told Mic. "Or you could go all out with a budtender, a variety of strains, rented vaporizers and even a smoking lounge. The sky is really the limit." 
Not everyone is good with the green: But despite the financial advantages and good vibes associated with weed weddings, having a cannabis-themed ceremony is not without obstacles.  Even though pot is legal in some states, laws governing how and where a person can enjoy cannabis vary greatly state to state. For example, in Oregon, you can possess up to 8 ounces of marijuana in your home, but only 1 ounce of marijuana outside of it. In Colorado, you cannot consume marijuana in public at all.
Sissel got around the Colorado use restrictions on public venues by having the wedding on a family-owned property. But Gibbs has had a difficult time finding a venue that will host her summer 2016 nuptials.
"I called a lot of properties and was respectively met with some rude and condescending and ill-informed responses," she told Mic. "Some venues will arrange for a smoking lounge bus that sits right outside the property, but I wasn't going to be in an expensive dress with my hair done and hauling onto a party bus that's off the property of a place I spent a boatload to rent."
West said that many couples who try to plan weed weddings have encountered similar obstacles, which is why she's working with a group of advocates in Denver at Women Grow to legalize limited social use in some public venues. "A wedding is a purely private event, and it should be legal for couples to choose a safer alternative to booze-soaked wedding traditions," she said.
Of course, Gibbs recognizes that renting a venue and just smoking anyway, rules be damned, is also an option. But she's not crazy about that idea.
"I did not want to be at a venue where I would have to do anything on the sly," she said. "This is my wedding. This is my day to celebrate a life that I have with my future husband. I'm not going to hide who I am or feel like I have to sneak away at the venue."
That said, Gibbs is optimistic that with marijuana reform efforts increasing throughout the country, as well as a majority of Americans supporting pot legalization, people will be more open to the idea of a weed wedding in the future. 
"There will be a huge market for cannabis wedding options in the coming years," she told Mic. "The venues who get out ahead are going to have a great market in the future."