If the Emmys Were Really About Honoring Great Television, Here's What They Would Look Like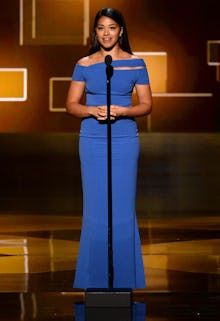 The Emmy Awards are purportedly about recognizing outstanding achievements in television. Were they to actually do that, though, what would Sunday's ceremony look like?
Last year's Emmys were a big bowl of mediocrity that saw almost every category going to a previous winner. Perhaps recognizing non-shifting tides, the Television Academy made a host of fairly significant changes to their processes — mostly about what kind of shows and performances would be nominated in which categories.
Did the changes work? Will we see more creative, artistic winners or more of the same? If they want to remain relevant as the arbiters of great TV, with the Golden Globes close on their heels, the Emmys must innovate. Luckily, we know exactly what the Emmys should look like — what should win versus what will win, and what should have been nominated in the first place.
Best drama series
Better Call Saul
Should've been nominated: Empire's snub feels egregious. Popularity shouldn't always translate to Emmy success — the messy How to Get Away With Murder didn't need a nomination — but Empire is the kind of balls-to-the-wall television you have to admire for its bravery more than anything else.
Should win: This is Mad Men's last year. The show that influenced countless other programs won best drama series Emmys for four seasons. It deserves a fifth to close out its eight-year run.
Will win: Downton Abbey, Homeland and House of Cards are all beyond their best days. Game of Thrones is popular, but even fans weren't as fond of this year's story. Safe bet: bronze to Breaking Bad continuation Better Call Saul, silver to former best comedy series nominee Orange Is the New Black and gold to Mad Men.
Best actress in a drama series
Claire Danes, Homeland
Should've been nominated: Julianna Margulies won this category last year for The Good Wife, had an even better season than last, then promptly got snubbed. Similarly, Kerry Washington got nominated for the last two seasons of Scandal and turned in amazing work in this year's intense episode "Run," but was left empty-handed. This is a stacked category, but they easily deserved the recognition over Wright and Danes.
Should win: Cookie Lyon didn't come here to be second-best. Cookie Lyon came for what's hers. Henson conducted a clinic on how to make a big personality believable on Empire. Cookie is iconic. This should be hers.
Will win: Henson should be Empire's one slam dunk of the night. If not:
Best actor in a drama series
Kyle Chandler, Bloodline
Should've been nominated: This is one of the older categories at the Emmys, but including The Flash's Grant Gustin would have lowered the median age a bit. He's also completely deserving, bringing a mix of boyishness and gravitas to TV's best superhero series.
Should win: Hamm has never won an Emmy for Mad Men. This is his last chance. It's time.
Will win: Odenkirk doesn't inspire the same love as his former Breaking Bad costar Bryan Cranston did. Daniels, Chandler and Schreiber are all very happy to be nominated. The only threat to Hamm's win is Spacey — who will probably win. His is a far showier part than Hamm's.
Best supporting actress in a drama series
Uzo Aduba, Orange Is the New Black
Should've been nominated: Hendricks is great, but January Jones' snub for Mad Men is unforgivable. She played Betty Draper's cancer diagnosis arc with such subtlety. Every twitch of her eye or mouth was meticulously executed poetry. Her absence here is a deep hole.
Should win: Baranski has been nominated six times for crafting the elegant, assertive attorney Diane Lockhart, yet she's never won. This is a woman who can make a laugh a delicious treat to be savored. She's funny, heartbreaking, sexy and the pure essence of cool. None of the women who beat her perviously are nominated this year, and she submitted a killer episode that features Diane arguing against "religious freedom" laws. This is her best shot.
Will win: Aduba is a winner for this role last year (albeit in the guest actress in a comedy category), so she's probably set for a repeat.
Best supporting actor in a drama series
Jonathan Banks, Better Call Saul
Should've been nominated: Jussie Smollett was a victim of the Emmys' generally cold shoulder toward Empire. As gay son Jamal, he anchored much of the first season's story and provided the one non-Cookie breakout performance.
Should win: Bloodline is borderline terrible, but Mendelsohn is not. He's the real point of interest — one might say the only reason to watch — as the perennial screw-up brother and prodigal son of the Rayburn family.
Will win: House of Cards' Kelly was given interminable scenes of rehab recovery this year. These weren't fun to watch, but they basically scream Emmy.
Best comedy series
Louie
Should've been nominated: Where is Jane the Virgin? The CW's critical darling is funny, charming and the kind of seemingly light delight that surprises with its depth. Modern Family is fine, but Jane the Virgin is a far more compelling choice.
Should win: Any other year, Unbreakable Kimmy Schmidt would deserve this. In this moment, however, it has to be Transparent. These could be the queerest Emmys ever, and giving Amazon's touching, wonderful series about a woman transitioning is the right call. It's both the best choice and the most emblematic of 2015.
Will win: Modern Family has won for five straight years, so it's dumb to bet against it. Something in the air feels this category might angle toward a Transparent win, though.
Best actress in a comedy series
Edie Falco, Nurse Jackie
Should've been nominated: It must be noted that this is a fantastic category with at least four deserving winners. That said, the snubs of Ellie Kemper (Unbreakable Kimmy Schmidt), Tracee Ellis Ross (black-ish), Constance Wu (Fresh Off the Boat) and Gina Rodriguez (Jane the Virgin) are each more unforgivable than the last. Ideally, Falco and Tomlin would have gotten the boot, leaving eight nominees.
Should win: Playing with the cards dealt, this should go to Poehler for the last season of Parks and Recreation. It's preposterous she's never won — she brought incredible warmth to Leslie Knope for seven seasons. Schumer is also deserving, but she may wind up getting recognized in another category.
Will win: Tomlin's nomination for Grace and Frankie is a bizarre choice (why not Jane Fonda?) — but it's coming in a big year for the actress. Faced with a bunch of critical darlings, voters may choose to go with a favorite.
Best actor in a comedy series
Anthony Anderson, black-ish
Should've been nominated: This list is nowhere near as embarrassing as it could have been — never forget that Jon Cryer could have been nominated for Two and a Half Men. That said, do we really need another LeBlanc nod when Gael Garcia Bernal brought wild, vivid life to Mozart in the Jungle's Rodrigo? Transparent isn't the only Amazon show, after all.
Should win: This isn't even close. Tambor is experiencing a second career with his performance as transitioning woman Maura on Transparent. It's the kind of performance the Emmys were made to recognize.
Will win: Give the Emmys credit: They occasionally get it very right. Julia Louis-Dreyfus has five Emmys, after all. Tambor's win here will be one of those cases.
Best supporting actress in a comedy series
Mayim Bialik, The Big Bang Theory
Should've been nominated: It feels absurd to add any more nominees to this stacked category, but Looking's Lauren Weedman should be both nominee and winner. Her performance as Doris in the HBO series' "Looking for a Plot" was stellar. Only an actor who knew her character as well as she did could play a woman grieving her father with such glorious specificity. It's not a traditional comic performance, but it's a great one.
Should win: If it isn't going to be Weedman, it should be Nash. Hers is a shocker of a nomination considering Getting On's generally quiet reception. Winning for playing the empathetic nurse Didi would floor audiences in the best way — and point them to a really lovely, generally ignored series.
Will win: It's not smart to bet against Emmy favorite Janney. She has six Emmys, and a seventh will just be gravy.
Best supporting actor in a comedy series
Andre Braugher, Brooklyn Nine-Nine
Should've been nominated: As awful as Gina Rodriguez's omission is, there's something even worse about Jamie Camil's. As Jane the Virgin's Rogelio, Jane's father and a soap opera superstar, Camil shines like the best in show, even if Rodriguez's work is more complex. He should have easily beaten out Burrell, Driver or Hale.
Should win: All due respect to Braugher, who makes comedy's most stoic character one of its funniest too, but this is where Unbreakable Kimmy Schmidt deserves its trophy. Burgess is a wonder as Kimmy's theatrical roommate Titus Andromedon. He made "Peeno Noir" (a catchy song and "an ode to black penis") a viral sensation. This category belongs to him.
Will win: Is it impossible to imagine Burgess will actually win out? The supporting categories are warm toward theater actors (see Margo Martindale and Zeljko Ivanek's wins for Justified and Damages, respectively). He could really win.
Best limited series
American Crime
Should've been nominated, just kidding, absolutely not: #Justice4TheSlap. The NBC miniseries was trash, a misfire of a melodrama that failed its impressive ensemble (Uma Thurman! Peter Sarsgaard!). It told a terrible story about the ramifications when one man (Zachary Quinto, in bulging-eyed glory) slaps a child at a neighborhood party. Each and every week of The Slap was addictively loathsome — yet we can't help but be a little sad NBC's big play into prestige miniseries didn't get noticed. Who knows: We could have gotten The Slap season 2 out of it.
Should win: Olive Kitteridge was a somewhat unexpected pleasure on HBO last year, stacked with strong performances from Frances McDormand, Bill Murray and more.
Will win: American Horror Story showed some wear in its fourth season, while The Honorable Woman was probably too quiet and American Crime too forgettable. Flip a coin between Olive Kitteridge and the very British Wolf Hall.
Best actress in a limited series or TV movie
Maggie Gyllenhaal, The Honorable Woman
Should've been nominated: This category is top-to-bottom great, but it is sort of incredible the Emmys turned down the chance to nominate Nicole Kidman — especially since her movie, Grace of Monaco, was nominated.
Should win: Latifah is great in Bessie, but the clear and obvious winner here is Gyllenhaal. She already won a Golden Globe for playing a brilliant, flawed and brilliantly flawed businesswoman in the Sundance TV limited series. She deserves an Emmy to match.
Will win: McDormand is almost certainly taking this one, even if Olive Kitteridge doesn't win series.
Best actor in a limited series or TV movie
Adrien Brody, Houdini
Should've been nominated: Hello Ladies was an underrated gem on HBO for a season and a movie. Star Stephen Merchant would have been far more welcome a nominee versus Gervais for his series Derek's own finale film. 
Should win: Oyelowo, so snubbed for Selma at the Oscars this year, brought the same fire to Nightingale. In the HBO film, he plays a veteran slowly losing his grasp on reality. The film is basically a one-man show, and he makes the work sing.
Will win: Wolf Hall is the kind of prestige project often rewarded in these categories, so Rylance is a safe bet.
Best supporting actress in a limited series or TV movie
Angela Bassett, American Horror Story: Freak Show
Should've been nominated: Frances Conroy is probably pretty upset she's the only one of the Freak Show veteran actresses to be denied a nomination.
Should win: One of the biggest reasons Mo'Nique is such an acting treasure is how elusive she is. After conducting a masterclass in infusing power into technique in Precious (and winning an Oscar for it), she basically disappeared from film. Let's hope a hypothetical Emmy for her fiery, righteous work as Bessie's Ma Rainey won't drive her away again — we need more of her.
Will win: Assuming the American Horror Story women vote-split, this one is all Mo'Nique's.
Best supporting actor in a limited series or TV movie
Richard Cabral, American Crime
Should've been nominated: No egregious snubs spring to mind. When the categories get this niche, generally it's hard to ignore an obvious contender.
Should win: O'Hare is beyond weird season in and season out on American Horror Story. The character actor really deserves some kudos for the work. Voters may want to wait for next year, however — he's playing a character obsessed with Elizabeth Taylor named, well, Elizabeth Taylor in the next season, Hotel.
Will win: Everyone loves Bill Murray, including, probably, Emmy voters.
Best reality competition series
The Amazing Race
Should've been nominated: RuPaul's Drag Race is hands down the best reality competition on TV. It's smarter, funnier and requires a dozen talents at once. If you've ever watched Lip Sync Battle, check out Drag Race for a primer on how it's really done.
Should win: Project Runway should have won this category three times by now, but its last season was by far its worst. Give it to So You Think You Can Dance instead, a program well past its prime that remains enormously entertaining regardless.
Will win: Fun fact: This category existed for 12 years before this one. The Amazing Race won 10 of those 12 times. It'd be foolish to bet elsewhere.
Best variety talk series
The Colbert Report
Should've been nominated: Seth Meyers is really carving out an identity for himself over on Late Night. It would have been easy for him to copy Fallon's jester-of-late-night shtick, but Meyers opted for something a bit quieter — a modern take on the traditions of late night.
Should win: Other years, it'd be easy to give David Letterman the win for over two decades of making The Late Show great. Considering we're already missing The Colbert Report (and it seems like Stephen Colbert is too), that would also be a fine pick. But let's stop kidding around: The Daily Show is the only choice.
Will win: The Daily Show will be the only choice for voters too. Get ready for the Jon Stewart-inspired waterworks.
Best variety sketch series
Drunk History
Should've been nominated: Actually, this is a pretty great category, with five very worthy nominees and no obvious snubs. This was, in many ways, the year of sketch comedy (no small thanks to Schumer) — hopefully their success inspires more.
Should win: Schumer is great, but Key and Peele was groundbreaking, subversive and hilarious. It was essential programming for five seasons up to and including its finale this past weekend. It deserves a victory lap.
Will win: This is maybe the easiest call of all. After a year of taking over pop culture, a win for Inside Amy Schumer will be merely a crown for comedy's newest star. She'll be in good company too.