'Star Wars: Galaxy of Heroes' EA Game Release Date, Features, How to Download and More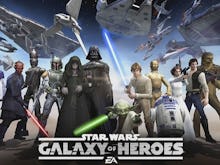 Star Wars fans will soon have the powers of the force right on their mobile devices with Star Wars: Galaxy of Heroes, a turn-based, role-playing video game from Electronic Arts. The game, which has players build a team of fighters to take on the galaxy, includes characters from both the original trilogy and the prequels, IGN Entertainment reports. 
The company announced Star Wars: Galaxy of Heroes at its E3 conference in June. The game is slated for release this holiday season, Electronic Arts said on its website. 
The game developer partnered with Lucasfilm and Disney Interactive to create the mobile game. "It is that collaboration that has enabled us to deliver a unique mobile experience that brings the vastness of the epic Star Wars franchise into the palm of your hand," John Salera, executive producer at Electronic Arts Capital Games, wrote in a blog post. 
"We wanted to tap into the fantasy of collecting characters and starfighters and then let people enjoy the fun of playing with them creatively," Salera wrote. 
Here's a look at the game in action via its official YouTube trailer: 
Players go about accumulating characters, equipment and ships and upgrading their abilities and strength in order to fight "across iconic locations" from the Star Wars films, including Hoth, Tatooine and Coruscant, Salera wrote. "Build powerful light- and dark-side teams with heroes and other characters from the Star Wars universe," a description on Electronic Arts' website reads. "Make strategic choices, and pick characters with complimentary abilities to construct squads like never before."
Electronic Arts is no stranger to the mobile game space. In 2013, the company released Heroes of Dragon Age, available on smartphones and tablets, Game Rant reports. "That game used wargaming-inspired digital miniatures to represent characters rather than cards, but otherwise it might give us a good preview of how Galaxy of Heroes will play," the report said. 
The company's latest mobile game is coming to iPhone and Android and can be downloaded for iOS through Apple's App Store and for Android through Google Play, Android's app store formerly known as the Android Market.