Samantha Bee Has the Perfect Response to the All-Male Late Night Photo in 'Vanity Fair'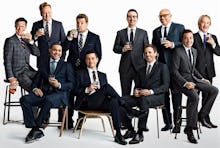 Conan, Bill, Stephen and two Jimmys. There's no doubt that the people who give us our last laugh before heading to bed all have one thing in common, as shown in this October Vanity Fair photograph: 
They're dudes. Since the beginning of network television's late night talk show tradition, starting from the days of Steve Allen and Jack Paar, that has largely been the case, minus a few notable blips, including the late, great Joan Rivers. 
There's been a palpable desire to put a woman behind the desk amid the late night changing of the guard, as Jay Leno, David Letterman and Jon Stewart left their shows in recent years. But no amount of tweeting could convince the powers that select America's late night hosts to stick it out with a woman. 
"How gobsmackingly insane is it," writes Vanity Fair's David Kamp, "that no TV network has had the common sense — and that's all we're talking about in 2015, not courage, bravery or even decency — to hand over the reins of an existing late night comedy program to a female person?" 
Yet, as the major broadcast networks have yet to name a woman as a host to a show since Rivers' short-lived Fox show in the late 1980s, Chelsea Handler will host a new show for Netflix (following Chelsea Lately, which ran 2007 to 2014 on E!), and Daily Show alum Samantha Bee will do the same for TBS. Both shows are scheduled for 2016, which may be why neither was included in Vanity Fair's piece. In either case, Bee had just a slight adjustment to correct this omission: 
Even Stephen Colbert, who kicked off his tenure hosting The Late Show last week, wrote in Glamour, "It has been pointed out to me that I, like other late night TV hosts, am a man. And while I'm happy to have a job, I am surprised that the world of late night TV lacks a female presence, unlike sitcoms, which are packed with smoking-hot wives who teach their doughy husband a valuable lesson when he slips on a pizza and falls headfirst into a porta-potty full of beer." 
Is it hatred, fear or playing it safe? Earlier this year, during a roundtable of female comedic actresses for The Hollywood Reporter, Amy Schumer was blunt after joking that it was because women get their periods at night. 
"I think people hate women," Schumer later added. "I think people hear a woman talk too long and project their mom yelling at them, or they're afraid that they're going to hate women. I know my experience has been sort of tricking people into listening, and then you get in the door that way. But it's, like, a dance you have to do."
"People are so stuck in these old formats that the idea of any form of risk-taking becomes terrifying to them," Lena Dunham said. When Letterman announced his retirement, Dunham said she tweeted Parks and Recreation's Retta should assume the throne. That's when "10,000 people were like, 'I would kill to see this. Do it.'"  
"There is a real, slow move to allow people in, and there's a way that we just recycle what we know," Tracee Ellis Ross said. "And there's a plethora of female talent out there." 
With boatloads of comedians like Bee, Schumer, Dunham, Ross and others, there's no shortage of funny women who can command a show (with laser eyes, as Bee asserts above). Eventually those who make the decisions about network late night will figure this out.