Shannon Lamb: Here's What We Know About Alleged Delta State University Shooter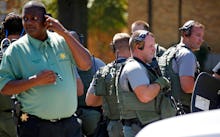 Police in Cleveland, Mississippi, have been on the lookout for 45-year-old Delta State University professor Shannon Lamb, whom authorities named as a person of interest in the Monday morning shooting death of fellow university employee Ethan Schmidt. Lamb, who teaches geography and social sciences at the university, is at large, Mississippi News Now reports. Authorities said to consider him armed and dangerous. 
Law enforcement said it was unclear what connection Lamb, who joined the faculty at Delta State University in 2009, had to Schmidt, who died from a gunshot wound to the head, CNN reports. "At this time we don't think he's on campus," Cleveland Police chief Charles Bingham said, according to CNN. "We're not taking anything lightly."
Lamb received his Ph.D. from Delta State University in 2014, according to his university biography. He received his masters degree in geography from the university in May 2007 and his bachelors in education from the school four years earlier. 
Before he was an employee of Delta State University, Lamb taught geography at Mississippi Valley State University, Fox Carolina reports.
According to law enforcement, Lamb was also suspected in another shooting Monday morning at the home he shared with a woman in Gautier, Mississippi, about 300 miles southeast of the university. Lamb, who was believed to be romantically involved with the unidentified woman, reported her death to the police by telephone, the Sun Herald reports. Authorities discovered her body shortly before Lamb shot Schmidt in his university office. 
Lamb left his home in Gautier and had allegedly traveled to the university in a green SUV, which university police later found on campus, the Sun Herald reports. 
Delta State University went on lockdown after the gunman fatally shot Schmidt. The university sent a message out to students warning them of an "active shooter" around 10:40 a.m. local time, WLOX reports "Delta State University has confirmed one fatality," another tweet from 1:25 p.m. read. "Campus remains under lockdown. Please stay inside and away from windows."
"Fortunately for us, our public safety officers and university officials have trained many of us for active shooter situations," university English professor Don Allan Mitchell told the Associated Press in a Facebook message, Inside Edition reports. "Many students are locked-down in classrooms, and professors and staff members are telling them the protocol. Plus, we are all texting and Facebooking each other to make sure we are safe."