Wendy Williams Son Kevin Jr. Used Synthetic Marijuana, Sent Out of Country for Rehab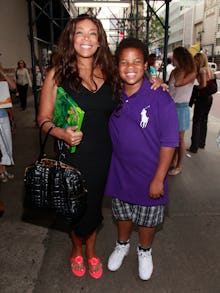 During The Wendy Williams Show's season 7 premiere, Wendy Williams revealed her son had recently started using synthetic marijuana, telling audiences Kevin Hunter Jr. was "turned out" while on the drug.
Williams and her husband apparently caught their son smoking artificial weed while the TV show host was taking a break from filming seasons. The 14-year-old's drug use quickly escalated to the point where he needed medical attention. In a personal on-air moment, the host announced during the "hot topics" portion of Monday morning's show her son had gone to a rehab facility outside of the U.S. and is now healthy and sober. 
Synthetic marijuana has been a controversial product since its inception in gas stations and smoke shops across the nation. As Mic previously reported, the Centers for Disease Control and Prevention notes at least 15 people have died in connection to smoking the drug this year alone, along with a 229% rise in calls to poison control centers related to synthetic cannabinoids.
Synthetic marijuana is dangerous due to the mixture of chemicals combined to provide an effect similar to smoking weed. The unknown potency can vary greatly, its adverse effects can be lethal and some experts say could even cause permanent brain damage. Side effects may include "agitation, vomiting, hallucination, paranoia, tremor, seizure, tachycardia, hypokalemia, chest pain, cardiac problems, stroke, kidney damage, acute psychosis, brain damage and death," according to Forbes.
According to the National Institute on Drug Abuse, synthetic marijuana is not yet considered scientifically addictive, however, it notes, "regular users may experience withdrawal and addiction symptoms."
This isn't the first time Williams has shared her personal struggles as a mother with her audiences. The host went on-air last year in July when she shared with the crowd that her son was repeatedly lashing out at her, and the two weren't getting along. "What I discovered this weekend is my son doesn't like me anymore," Williams said during her show's taping, behind tears. "You know how it is, I know what it is. ... I discovered this a while ago, but the ball just got smacked home this weekend."