Here's What's Happening in San Diego One Year Since Police Started to Wear Body Cameras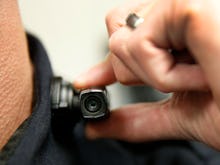 Early in 2014, a spate of sexual assault allegations against San Diego police officers created a crisis for the city's police department. Facing public demand for accountability, one of the measures it took to address the crisis was a proposal to deploy body cameras on all of its patrolling police officers. In June of that year, San Diego's police department began to roll out cameras on uniformed patrol officers in three of its nine divisions. 
Six months after the pilot program began, the department found an encouraging shift in its relationship with the public. Internal data showed that complaints against police officers were down, along with use of force by officers on the job.
But at the one-year mark, a follow-up analysis by the department yielded a surprising discovery. Compared to the year before, complaints against officers had declined, but the use of force had ultimately climbed higher.
The new data, recently reported by the San Diego Union-Tribune's Lyndsay Winkley, complicates the common perception among criminal justice reform advocates that body cameras lead to a drop in the use of force by the police. While video footage can be an essential tool for holding police accountable, it appears too early to consider body cameras a silver bullet for curbing police violence.
The report: The police department released its analysis of its first year of body camera use last week. It offers a mixed bag for those who were anticipating an improvement in police-community relations.
San Diego saw a significant reduction in complaints and allegations. Citizen complaints dropped 23% and allegations against officers fell 44%. There was an 84% plunge in the relatively few "not sustained" allegations (allegations about which "no determination can be made on the allegation due to a lack of evidence," according to the department):
But the complaints didn't decline as a result of less confrontation. The police report found a 10% increase in the instances of use of force by police officers, a finding that caught some reform advocates and leadership within the San Diego Police Department off guard. "This first year of data all seems to suggest that (body cameras) aren't the end-all solution to all social issues," San Diego Police Chief Shelley Zimmerman said, according the San Diego Union Tribune.
But focusing purely on the uptick in the overall use of force obscures some critical details. Police officers use force in a variety of ways, and the data reveals that while there was a surge in the use of less intense force, the use of more severe force shrunk:
"Lesser controlling force," which rose 17%, includes maneuvers like using body weight to impose control on a situation. "Greater controlling force," which fell 8%, refers to acts such as employing a chokehold to cause a suspect to submit, or firing a taser.
Another finding in the police report throws a critical variable into the mix: Assaults against officers increased 36% in the past year.
What it means: There are a number of reasons to be careful about drawing strong conclusions from this report. It's a limited data set, since only 1/3 of the police department's divisions have deployed the cameras. The time span is short — it's only been 12 months. At the six-month mark, use of force was decreasing — what's to say trends won't look quite different again in another six? It's particularly important to be cautious about interpreting changes in institutions in the immediate aftermath of a major reform. Cameras may act as neutral observers, but the people to whom they're attached are not.
"It's also quite possible that body cameras have influenced the way officers write their reports," David Trujillo, advocacy director for the American Civil Liberties Union of San Diego and Imperial Counties, wrote in an analysis of the report. "Are officers reporting use of force instances and assaults on officers differently now than a year ago? We don't know."
Some experts on policing believe there are too many variables that could be playing a role in the shift in use of force to establish causal links.
"It is unwise to draw stark conclusions from one year of data in only three patrol areas," Alex Vitale, an associate professor of sociology at Brooklyn College, told Mic. "Dash camera studies, some of which have relied on longer term data, consistently show a reduction in use of force and a reduction in complaints against officers."
But Vitale expressed concern that the focus on the impact of cameras on police conduct could distract from more systemic problems. Cameras allow for documentation and critique of how officers do what they do, rather than what they're doing in the first place.
"The use of cameras is intended as a form of procedural justice in which police are encouraged to perform their duties in a more lawful and respectful manner," Vitale explained. "While this has some obvious benefits, it doesn't deal with important, substantive justice issues, such as very high arrest rates for minor crimes, criminalization of homeless and mentally ill people and more intensive policing in communities of color."
The most sensible reaction to San Diego's experience with body cameras thus far is to consider it an ongoing experiment to revisit periodically. On the whole, a decrease in citizen complaints and in more severe force is encouraging, but the data is too volatile at the moment to feel secure drawing a strong conclusion. And ultimately, criminal justice reform will require a wider lens — camera or not, over-policing and under-supporting communities with high crime rates will persist without deeper reforms.