Malcolm Turnbull Could Have Australia on the Verge of National Same-Sex Marriage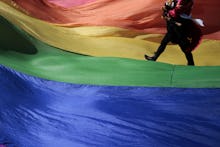 Less than 24 hours after Australia's new Prime Minister Malcolm Turnbull was sworn into office, he announced the matter of same-sex marriage would be decided by a national vote. 
Almost immediately after assuming his new role, Turnbull conducted question time in parliament and addressed the matter head-on. "There is no greater virtue in a free vote here or a plebiscite, they are each means of resolving the matter ... It is a very legitimate and democratic way of dealing with it," he said, ABC reports.
With 72% of Australians in support of same-sex marriage, it looks likely the proposed reform will pass. However, when, exactly, the vote will be held remains to be decided. 
"If Australia is going down the path of a plebiscite, we want it sooner rather than later, preferably at the election so whichever party wins government has a mandate to act on those reforms," Australian Marriage Equality director Rodney Croome told the Australian Associated Press.
Turnbull became leader of the ruling Liberal Party late Monday night after he orchestrated, with the help of other party members, a dramatic political stratagem to oust former Prime Minister Tony Abbott. Abbott is against same-sex marriage, despite having a gay sister who's been campaigning for her legal right to marry her partner.
The staunchly Catholic Abbott said in August, "we support the traditional position that marriage is between a man and a woman," according the Herald Sun. He avoided dealing with the matter directly by alternating between a parliamentary and national vote, neither of which he enacted.
Global momentum in 2015 has seen major countries like the United States legalize same-sex marriage, after a historic Supreme Court ruling on June 26. Ireland also introduced marriage equality when the majority of the country voted in favor of it during a referendum on the matter in May. If Australia's public opinion polls are anything to go by, it looks likely they'll also be joining the club soon.