Miley Cyrus Debuts New Song in Trailer for LGBTQ Rights Film 'Freeheld'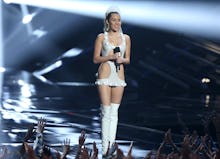 Miley Cyrus' last release was an intriguingly sloppy, psychedelic mess. Miley Cyrus & Her Dead Petz, a surprise album released immediately following the MTV Video Music Awards in late August, suggested Cyrus' pop days were numbered. However, her most recent release proves she can still nail a "Wrecking Ball"-style ballad with ease. 
On Monday, Cyrus teased her latest song "Hands of Love," through the trailer for the upcoming film Freeheld. Penned by Linda Perry of 4 Non Blondes, the song fits Cyrus' low register beautifully, and shows Cyrus hasn't left pop for good.
Inspired by a true story, Freeheld stars Ellen Page and Julianne Moore as Stacie Andree and Laurel Hester, respectively. They were a New Jersey lesbian couple who fought to have Hester's pension benefits transferred to Andree following Hester's terminal cancer diagnosis. 
It was Page who suggested Cyrus to sing the movie's theme. "She has a really raw, unique, awesome, beautiful voice, and Miley's doing a lot of incredible things for the LGBTQ community," Page told Time. "I just thought it was going to be a perfect fit. She and Linda made something really special. I kept listening to it after I heard it."
Cyrus has done tremendous work building support systems and raising awareness for the struggles of homeless and LGBTQ youth through her Happy Hippie Foundation. "Hands of Love" gives her a chance to fuse that passion with her musical performance. 
"People like to learn through entertainment," Cyrus told Time. "It's an interactive way to get people to hear your message by putting it in a song they like to listen to, or a film they want to see."
Fans will have to make due with the short snippets of vocals coming through the trailer dialogue, until the full song drops Oct. 2. Freeheld will hit theaters the same day.