Porsche Mission E: Concept, Photos, Specs and Range of Porsche's Electric Sports Car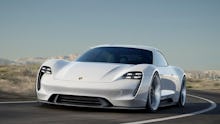 On Monday, Porsche unveiled its own version of an all-electric sports car, called the Mission E, that could give Tesla a reason to go back to the drawing board. Porsche says the four-door sedan can charge to 80% in 15 minutes, boasts a 600-horsepower engine and has a range of about 310 miles before running out of juice, Wired reports. That distance is just slightly over the range for the Tesla Model S.
The German automobile maker pulled back the curtain on its Mission E at the Frankfurt Motor Show on Monday. While only a concept — one that, for all intents and purposes, may never come to fruition — it's a smart move for Porsche, a company that could benefit from marketing an electric car to meet ever more stringent United States and European fuel emission standards. 
Here's a look at Porsche's concept for its Mission E electric sports car: 
Whether Porsche ever takes its Mission E to the production line is yet to be seen. Though the vehicle is an innovative concept for an electric sports car, many of its specs sound like straight-up science fiction. The company said in a press release that the car would have a 3-D Porsche badge in the window that moves as the driver shifts in her seat. It also says there's an instrument that can detect the driver's mood and display an emoticon in the dashboard that mirrors her state of mind. 
Additionally, "an eye-tracking system detects, via camera, which instrument the driver is viewing," the car manufacturer said. "The driver can then activate the menu of the instrument in focus by pushing a button on the steering wheel and navigate in it." 
Fantasy aside, the Mission E is stunning. The sports car stands just 4 feet, 3 inches tall, has sleek, modern lines and maintains the classic Porsche look. "The much reduced sculpting of the front end shows a classic Porsche sweepback, and it relates the concept car to the 918 Spyder and Porsche race cars," Porsche writes. 
Porsche's electric car concept comes seven years after Tesla released its first fully-electric sports car, the Tesla Roadster, in 2008. The original Teslas were priced from $120,000 to $160,000, Wired reported in 2012.