Emily Blunt Tells Stephen Colbert Exactly How Sexism Works in Hollywood on 'The Late Show'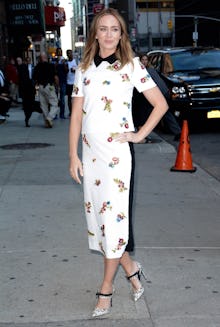 Emily Blunt may be the film industry's new "full metal bitch," but the actress still has to go through the same doors of sexism as every other woman. She just prefers breaking them down.
Visiting the Late Show set Monday to promote her upcoming film Sicario, the star delivered some blunt talk about being a woman in an action film. Host Stephen Colbert at first described Blunt as "tough" in both her new film and in 2014's Edge of Tomorrow, but then questioned his own language choice. 
"Nobody says to Bruce Willis, 'You looked very tough out there,'" Colbert said.
Blunt agreed, but said her focus was more on the terminology — and what the coded meaning actually is. "Is it just because I have a gun in both films?"
This led into a conversation about Blunt's role in the thriller Sicario, which at least one potential financial backer wanted turned into a role for a man.
Luckily for Blunt, Sicario's production team held firm and made her the female lead alongside star Benicio del Toro. For her part, the actress wasn't much fazed by it. "Welcome to Hollywood," she said with a mix of sarcasm and knowing annoyance.
This is just another example of Hollywood's sexism. When only 30% of characters in the last seven years of popular film are women, every role counts. To hear a story of one producer trying to turn a meaty role for a woman into yet another role for a man is disappointing, but also par for the course. It's to the credit of the team behind Sicario that they stuck to their guns.
There are some signs that things are getting better, however. In her new film Our Brand Is Crisis, Sandra Bullock managed to get a male part originally designed for George Clooney rewritten for her. Clooney himself called for more such rewrites in the future.
Of course, Bullock is a star of a certain pedigree and box office draw. It's easy to see someone like her or Jennifer Lawrence pulling such a gender-flip off. Until the status quo changes for good, viewers are likely to hear more stories like Blunt's. 
"Welcome to Hollywood," indeed.
The full episode of The Late Show can be found on CBS' website. Sicario opens Oct. 2; watch the trailer below.