Amazon's CEO Just Made a Huge Announcement About the Future of Space Travel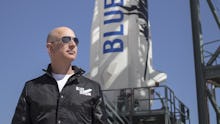 After a decade of silence, Cape Canaveral's Complex 36 space-launch complex will again shake with the roar of rocket engines. 
Blue Origin, the private aerospace company founded by Amazon CEO Jeff Bezos, announced Tuesday via NASA TV that it would be building and launching rockets from Complex 36 in Cape Canaveral, Florida, becoming the third private aerospace company to do so.
Bezos said he plans to begin launching later this decade. "You'll hear us before you see us," he told the crowd, which was full of Floridan politicians.
"At Exploration Park, we'll have a 21st century production facility where we'll focus on manufacturing our reusable fleet of orbital launchers and readying them for flight again and again," Bezos said. "Locating vehicle assembly near our launch site eases the challenge of processing and transporting really big rockets."
The big picture: Blue Origin will bring hundreds of jobs and the return of an active launch platform that's been quiet since 2005. 
Having another private commercial aerospace company enter the fray means more competition, hopefully spurring quicker innovation in the field. Bezos will be racing for notoriety in a field where Elon Musk, the modern-day Tony Stark, already made his bed.
Right now, in a political climate where NASA struggles to maintain funding even when it regularly proves its viability as our window to the universe, it's important for private companies to enter the hemisphere with their own plans for space exploration.
The announcement of the facility isn't the sexiest news — there are no human settlers going to Mars, no lunar base in the works — but there's reason to look up. By Bezos bringing his business from Washington to Florida to build and launch rockets, it not only means more jobs in the aerospace industry, but a new generation of reusable rockets that will greatly reduce the price of spaceflight. This makes it attainable for companies with big ideas but small funding to reach outer space. 
Time will tell, but the Blue Origin announcement could usher in the next wave of young aerospace startups, removing space travel from being a billionaire's game and changing who gets to explore space forever.