Trans Icon Gigi Gorgeous Brings Her Own Brand Of Beauty To Kylie Jenner's New App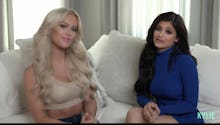 Kylie Jenner's new app, which shot to #1 in the iTunes app chart after less than 24 hours, and website has it all: A feature on her infamous all-denim look, a makeup tutorial for her "Sexy 18th Birthday Look" and a demonstration on how to make your breasts look more "girlie." 
But one feature stands out, in a good way: A makeup tutorial series with YouTube star and transgender icon Gigi Lazzarato, who's better known as Gigi Gorgeous by her 1.7 million YouTube subscribers, titled "Help! My face is fucked!"  
In the video, Kylie reveals how she became familiar with Gorgeous' work: "I saw Gigi on YouTube for my first time and fell in love with her. She's so funny and we just became friends," Jenner says before going into a harrowing story about how she once burned her friend's eyelashes off. "We are gonna give you guys some tips and tricks to solve these problems at home."  
The premise of the series is how you can fix beauty mishaps at home without rushing to a salon or beauty counter. In the first video, Gorgeous comes to the aid of a woman who's picked out an undereye concealer in a completely wrong shade. The series has a smart concept, made even smarter by the inclusion of Gigi and her throngs of fans. 
Gorgeous's YouTube channel features real and hilarious beauty tutorials. Frequent comments under her videos include "Gigi you have come so far, I have watched you forever now !!!!," "You're amazing!" and "You have to be so proud of yourself !!!" Her most recent video, "Reacting to My Old Videos," had 754,336 views at the time of publication. In it, Gorgeous recounts the last six years of her life on YouTube. 
When Gorgeous first began her YouTube career at the age of 16, she published under the name of Gregory Gorgeous as a way to remain anonymous while demonstrating the same sort of quick makeup tutorials that would eventually lead to fame. Over the years, fans have watched as Gorgeous became the Gigi they know today and an unlikely hero to the transgender community.
She came out to her followers as transgender in 2013, and showed herself throughout her transition process. In doing so, her fanbase grew and grew. She was outspoken, telling the world what steps she was taking next and even went as far as documenting her plastic surgeries. In several videos, she allowed viewers to ask her questions about being transgender. 
In one video posted in January 2014, she answers a question about how she found the strength to be herself with "I think it all really just goes down to me wanting to be happy and me being in search of my own happiness."
And celebrities started to take note. In June, Miley Cyrus and her #InstaPride campaign, which was created through a partnership between her Happy Hippie Foundation and Instagram, shined a light on Gorgeous. She was an obvious choice for the campaign, with its mission to highlight transgender and gender-expansive people. Cyrus took the images of Gorgeous herself, and they appeared exclusively on MarieClaire.com. 
"I became fascinated with her because she did videos before transitioning and then she went MIA for a while and then she came back transitioned as Gigi Gorgeous," Cyrus told Marie Claire. "It was incredible to see someone so confident."
Kylie's app and involvement in Gorgeous' career will surely only increase the number of people watching as she laments the importance of knowing your undertone or counts down her favorite products of the month. We'll likely never know who exactly encouraged Kylie to bring her in for the series, but out of all the slightly problematic tutorials and fashion breakdowns the website and app has to offer, this is the one we'll be keeping an eye on.