Lana Del Ray New Album: Tracklist, Download Options and Best Lyrics For Honeymoon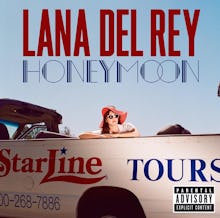 Lana Del Rey is closing out the summer by getting high by the beach, watching boys and being a freak. 
Honeymoon, the latest album from the "Summertime Sadness" singer set for release Friday via iTunes, is the highly anticipated follow up to 2014's Ultraviolence, the artist's first No. 1 album on the Billboard 200.
Last month, the artist released a sample of her upcoming album, along with an artistic visual component, to fans itching for new music from the performer, who has been churning out major studio releases every year since 2012.
Below is the full track list for Honeymoon, via iTunes. A digital booklet also comes along with the album purchase through the music store. 
1. "Honeymoon"
Although the jury is still out on which song will be the most popular, Del Ray seems to have her sights set on "Music To Watch Boys To," attributing the unique beginning that sets it apart from the rest of the album with a soft transition.
"I like you a lot/ Putting on my music while I'm watching the boys/ So I do what you want/ Singing soft grunge just to soak up the noise/ Blue Ribbons on ice/ Playing their guitars, only one of my toys/ Cause I like you a lot/ No holds barred, I've been sent to destroy," the artist sings as a drum beat and guitar play underneath the vocals. "Live to love you, and I love to love you, and I live to love you, boy."
The artist also maintains her alternative lyrics in songs like "Freak," where she croons, "Baby if you wanna leave, come to California be a freak like me, too/ Screw your anonymity, loving me is all you need to feel, like I do." And while "High By The Beach" may sound like reckless anthem to some, the lyrics read somewhat deeper: "I know you don't understand, you could be a bad motherfucker but that don't make you a man/ Now you're just another one of my problems, because you got out of hand/ We won't survive, we're sinking into the sand."
Honeymoon is available for pre-order via iTunes.