Baby Hero Is Saving Thousands of Newborns With Their Sustainable Baby Clothes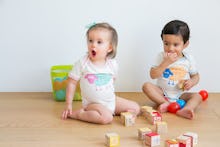 Developing countries see as many as 99% of the world's newborn and maternal deaths. In 2012, 75% of newborn deaths occurred within a week of being born, and nearly 40% of all children who died under the age of 5 were lost within the first 28 days.
Baby Hero, a company which sells baby products, is trying to lower those numbers with their socially responsible business model: For every product sold, they send a neonatal survival kit, compact enough to fit in a ziplock bag, to poor mothers in need. 
It's similar to models popularized by companies like Toms Shoes and Warby Parker glasses, which, for each pair of shoes and glasses sold, send another pair to someone in need. However, instead of passing along the same product, Baby Hero converts the costs into highly effective, life-saving neonatal kits containing things like a clean birth kit, antiseptic to keep the umbilical stump sterile and a Mylar baby blanket to reduce heat loss.
Samar Shaheryar and Allie Wieser, co-founders of Baby Hero who are based in Hong Kong, started the company in 2013 after they both experienced complications during childbirth. The two had a history of philanthropy and charity work, but their outlooks changed after becoming mothers. 
"As we became mothers, our priorities started shifting quite a bit and we really wanted to make a positive impact on the world," Shaheryar told Mic.   
"When you have your first baby in a developed region, there is so much mass consumerism that happens around it," Wieser told Mic. "And we saw a way we could make a product which could harness the power of consumers with the needs of mothers in the developing world. This cause resonates with them [new mothers] and the item is needed."
Evidence-based, high-impact work: Finding the right business model was important to the two women, so they spent a lot of time figuring out how to be most effective. 
They wanted to "avoid a Toms model," where many have questioned both the impact on and the shoes' necessity for the impoverished. 
"First, the Toms buy-one-give-one model does not actually solve a social problem," Fast Company writes. "Rather, the charitable act of donating a free pair of shoes serves as little more than a short-term fix in a system in need of long-term, multifaceted economic development, health, sanitation and education solutions."
Instead, the women wanted to find something more sustainable to tackle issues in the longer-term.
"I'd been looking at women's issues in Pakistan," Shaheryar said of her parents' homeland. "There are parts of Pakistan where 1 out of 10 babies are dying before their 1st birthday and 15% are dying before their 5th birthday. Thousands and thousands of children are dying prematurely from completely preventable diseases." 
To tackle this monumental problem, Shaheryar and Wieser knew they wanted to work with the best team of specialists they could find — they just weren't sure where to start. One day, while they were on their way to open Baby Hero's first bank account, Shaheryar was scanning a Facebook group for fellow Hong Kong-based young mothers. She stumbled on a post about a Canadian pediatrician, Shaun Morris, who had created a neonatal survival kit and was conducting a trial to examine its efficacy. As it turns out, Morris' best friend's wife, who was living in Hong Kong with her husband at the time, had posted it.
"We got chills," Wieser said. 
"It was divine intervention," Shaheryar said. "That, and meeting Shane [Shaheryar's husband], are two things that make me want to believe in a higher power." She recognized the still in the post's video and could tell Morris was conducting the trial in Pakistan.
Morris was specifically working on neonatal mortality. He has teamed up with Dr. Turab Ali at Aga Khan University Hospital, based in Karachi, Pakistan, to execute the study. 
"Within pediatrics, the big elephant in the room, so to speak, is that there has not been nearly as much improvement in newborn mortality," Morris told Mic. "So it's now at the point where in poor countries or low-income countries, pretty close to half of all children under the age of 5 who die are actually dying in the first four weeks of their life."
A team of women with the country's Lady Health Workers Programme have been distributing the kits to mothers, who've been using them in Rahim Yar Khan district of Pakistan. Morris predicts effectively distributing the kits could lower infant mortality by 30% to 40%. More recently, Baby Hero and Morris have started operating in Mombasa, Kenya, too.
Though it does present more challenges, Shaheryar and Wieser said being ethical on every level is paramount to their business. 
"We are 360-degree ethical in the supply chain, which is very unusual in a small company. We use only 100% organic and fair-trade cotton," Shaheryar told Mic. "These are not easy decisions to make; they do constrain you to a certain extent. But for us, it was very important that we didn't take from one hand and give to another."
The ethos of the brand is inclusivity. Each individual involved recognizes the complex and intertwined nature of the themes they're dealing with, from gender inequality to infant mortality to development. Once Morris started to actually delve into these issues, he found himself unable to remain idle.
"I started realizing how I essentially am fortunate in every way possible, being born a white man in a rich country to a good family," Morris said. "And [with] educational opportunities and health opportunities and everything. I have everything, and other people, through luck of the draw, have very little, and I think a lot of people are pretty ignorant of that."
As Wieser noted, mass consumerism is an unavoidable part of pregnancy in the developed world. This, along with the rising popularity of "ethical consumerism," means Baby Hero has enormous potential to connect people across the globe and make childbirth a safe and healthy process for mothers everywhere.