Donald Trump: Views on Iran Deal, Health Care and Education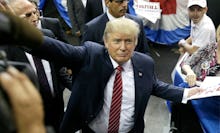 Real estate magnate and 2016 Republican presidential candidate Donald Trump continues to poll strongly with likely GOP voters, although retired neurosurgeon Dr. Ben Carson is hot on his heels, according to the latest polling from CBS News and the New York Times.
As the gap between the Republican front-runner and his contenders narrows, Trump will likely come under increased pressure to defend where he stands on the leading debates of our day. Here are Trump's views on three key election issues: the Iran deal, health care and education.
On the Iran deal:
Trump has aligned himself with the majority of the GOP and come out strong against the Obama administration's historic Iran nuclear deal. The deal lifts a set of economics sanctions and allows the Iranian government to pursue nuclear power in exchange for the country's commitment to not develop a nuclear bomb. 
During an event in Charlottesville, Virginia, in July, Trump called the nuclear deal "terrible," NBC News reports. "I don't understand the president," Trump said. "He dealt from desperation, and he shouldn't have been desperate."
Trump later expressed concern the deal could embolden Iran and lead to nuclear war. "They are going to be such a wealthy, such a powerful nation," Trump told NBC's Meet the Press in August. "They are going to have nuclear weapons. They are going to take over parts of the world that you wouldn't believe. And I think it's going to lead to nuclear holocaust."
Trump stopped short of saying he would have nixed the deal entirely, however. Rather, Trump told Meet the Press he would have imposed stricter preconditions for the deal, like requiring Tehran to release U.S. prisoners before negotiations could continue. Iran currently has in custody four Americans: former U.S. Marine Amir Hekmati, Iranian-American Christian pastor Saeed Abedini, Washington Post correspondent Jason Rezaian and former FBI agent Robert Levinson.
On health care:
Trump's views on health care today — he's adamantly against the Affordable Care Act, President Barack Obama's signature legislation — stand in stark contrast to his opinion 15 years ago, when Trump said he supported a single-payer health care system (in other words, universal healthcare), similar to what's in place in Canada. 
In November 2013, Trump called the Affordable Care Act, commonly known as Obamacare, a "big lie" and "total catastrophe." 
"I think it's a mess," Trump told Fox News's On the Record that month. "It's never been anything that I've ever seen like this." 
When confronted about his changing views on health care during the primaries' first GOP debate in August, Trump said, "As far as single-payer, it works in Canada. It works incredibly well in Scotland. ... What I'd like to see is a private system without the artificial lines around every state." 
Trump added, "insurance companies are making a fortune because they have control of the politicians, of course, with the exception of the politicians on this stage."
On education:
Trump has said he doesn't support the Common Core educational standards, a federal curriculum guideline used by 46 states and the District of Columbia. 
"We have to stop Common Core," Trump said in a statement posted to his website in June. "We must keep education local and under parental control. Unelected Washington bureaucrats shouldn't determine what is best for our children."
He's also said of the U.S. Department of Education, "You could cut that way, way, way down," during a Tea Party convention in South Carolina in January.