Amber Rose's Funny or Die Video Flips the Script on the Walk of Shame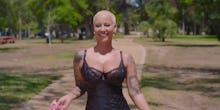 Tip-toeing out of a strange house on a bright sunny morning, dressed in last night's clothes with the goal of returning home unnoticed is familiar to many of us as the Walk of Shame. But model Amber Rose wants to remind people that there's no shame in getting laid. 
In this new Funny or Die video posted Tuesday, Rose walks down the street proudly in last night's skin-tight dress, smiling at the milk man, the paper boy and passersby, who all all give their thumbs-up to Rose, pink stilettos in hand. 
In fact, the local mayor hands her the key to the city "for your confidence in the choices you make and your ability to celebrate your body!"
The whole thing culminates with Orange Is the New Black actor Matt McGorry, apparently the dude she hooked up with. He chases her down, reminding her that she forgot to leave her number.
"No," she replies before walking away, "I didn't." 
Walk of pride: Last month, Rose and friend Blac Chyna arrived at the MTV Video Music Awards wearing outfits with misogynist slurs like "whore," "gold digger," "bitch" and "slut" written all over them. Earlier this year, her ex Kanye West remarked that he had to "take 30 showers" after dating her and moving on to his now-wife, Kim Kardashian. At the time, Rose countered, "We were happy when we were together! And now all of the sudden, I'm getting slut-shamed because we're not together anymore and it's not fair." 
That's why she's kicking off the Amber Rose Slut Walk in Los Angeles this October.
No doubt participants will strut just like Rose does throughout this video: with pride, wearing whatever the F they want (as the event's FAQ recommends).