Kourtney Kardashian App: Everything We Know About Her Upcoming Mobile App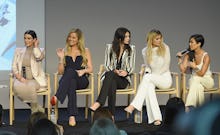 The Kardashian-Jenner clan conducted a tech talk Monday in New York to celebrate releasing four new apps and telling the world that Apple should actually be spelled with a K.
The five sisters took the stage at Apple's SoHo location to show off the new apps and corresponding websites created with app developer Whalerock Digital Media. However, one thing was missing: Kourtney Kardashian, the oldest of the sisters, told fans her app wasn't available just yet. 
"Mine is more curated," Kourtney said during the event, explaining the difference between her sisters' fashion and style-related apps and her upcoming project. "I'm obsessed with interior design, so it's a lot about that. I'm obsessed with being a mom and I have a very specific way of being a mom, I think as well, so I love sharing, all my friends come to me with mom questions. There's not one thing on mine that I'm not obsessed with, like, thoroughly ... I can't wait until mine launches."
However, the crew declined to provide any further detail as to when a fifth Kardashian-Jenner app will be available for downloading.
If the elder Kardashian's app is the same price tag as the rest of her sisters' releases, it will cost $2.99 per month for users to get that "in-depth" look into the life of the mother of three. Each app is tailored to an individual sister's interests: Khloe's will focus on fitness and working out, while Kim's will be more selfie-central with a hint of fashion.
The rest of the sisters' apps were featured throughout Monday and Tuesday on the Apple App store. They are also available on Google Play.