Demi Lovato Talks Bisexualtiy, "Experimenting" and Meaning of "Cool for the Summer" Lyrics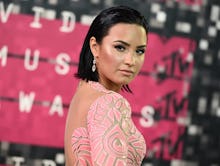 Demi Lovato has a "taste for the cherry" and isn't shy about it. In an interview with British TV host Alan Carr of Alan Carr: Chatty Man on Friday, Lovato, 23, talked about the lesbian undercurrents in her hit summer single "Cool for the Summer" and whether the song's lyrics were about Lovato's same-sex experiences. 
"I'm not confirming and I'm definitely not denying" that the song is about lesbianism, Lovato said. "All my songs are based off of personal experiences. I don't think there's anything wrong with experimentation at all." Specifically, Carr wanted to know what the singer meant when she sings, "Got a taste for the cherry/ I just need to take a bite." 
When Carr, who is gay, made a joke about his own experimentation "sticking," Lovato replied, "I didn't say it didn't stick either." Some entertainment publications took Lovato's remarks to mean the singer was, in a roundabout way, coming out as bisexual. However, the singer stopped short of saying she identified as bi. 
Lovato went on to describe what she sees as a double standard among men and women when it comes to experimenting with same-sex attractions. "If a guy sang this song who was straight, it would be such an uproar," she told Carr. "But the thing is, there's a confidence to a man that would say 'I've experimented with a man' and not care. ... I actually find that more attractive than somebody saying 'no, no, no, that's so wrong.'" 
Lovato, who got her entertainment start as a child actor on Barney and Friends, had previously sparked rumors about ambiguity in her sexuality because of lyrics in "Cool for the Summer."
When the track dropped earlier this year, its popularity quickly skyrocketed, but it wasn't without controversy. Some fans pointed out that "Cool for the Summer," an upbeat dance hit, was a rip-off of Katy Perry's "I Kissed a Girl (and I Liked It)."
Watch the full Lovato interview with Carr here: