2015 Republican Debate Schedule: Latest Info on Remaining Debates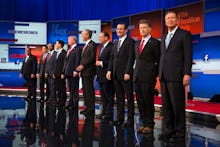 Four more Republican debates are scheduled to take place before the end of 2015. As the flock of GOP presidential hopefuls begins to thin, candidates are priming themselves for the upcoming Republican primary debates, the next of which airs Wednesday. 
However, the CNN Republican Primary Debate could prove to be a major battleground for candidates clinging to the support they have gained thus far. The candidates will take the stage at the Reagan Library in Simi Valley, California.
While a handful of Republican presidential hopefuls struggle to make household names of themselves, two Republican candidates who have never held office are surging in the polls: real estate tycoon Donald Trump and former neurosurgeon Ben Carson. 
Candidates will then be given some time to unwind following the debate. The CNBC debate after that isn't until a month later, on Oct. 28 at the University of Colorado in Boulder.
Fox Business will host the fourth GOP debate, alongside the Wall Street Journal. That debate, scheduled to take place sometime in November, is being held in Wisconsin and will mark the final Republican debate of the calendar year. 
To view the 2015-2016 Republican/Democratic debate schedule, check here.