"Cake by the Ocean" Lyrics: Joe Jonas' New Band DNCE Releases Debut Single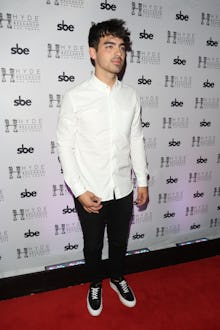 On Monday, Joe Jonas's new band, DNCE, released its debut single, titled "Cake by the Ocean." The pop-fueled single that Complex describes as part '70s swag, part R&B, saw its first public airing on New York's Z100 radio station.
The station apparently liked the song so much, they played it twice. 
The starts, "See you walking 'round like it's a funeral/ Not so serious, girl; why those feet cold?/ We just getting started; don't you tiptoe, tiptoe." 
As it rolls toward the chorus, it continues, "Waste time with a masterpiece, don't waste time with a masterpiece/ You should be rolling with me, you should be rolling with me/ You're a real-life fantasy, you're a real-life fantasy/ But you're moving so carefully; let's start living dangerously." Read the full lyrics on Genius. 
Jonas' band consists of former Jordin Sparks and CeeLo Green guitarist JinJoo Lee; Cole Whittle on bass and keyboard; and Jack Lawless, who toured with the Jonas Brothers in 2006, on drums. The inspiration for DNCE "was born out of Jonas' plan for an offbeat pop project inspired by the melodic sensibilities of Earth, Wind and Fire and Hall and Oates," according to Complex's Jessie Morris.
Of the song's title, Jonas said, "We were at the studio, and I overheard the producers saying that they wanted to get cake by the ocean," Entertainment Tonight reports. According to the singer, the Swedish producers were actually referencing the mixed drink called Sex on the Beach.
"That song was a total breakthrough," Jonas said. "Once we came up with 'Cake by the Ocean,' everything was electric."
Jonas, 26, hasn't released new music since his debut solo album, Fastlife, in 2011. Most recently, Jonas has been DJing, Billboard reports. Jonas recently dropped hints of DNCE's new single on Instagram.
Listen to DNCE's debut single here: