You Won't Hear About This Designer at New York Fashion Week — But You Should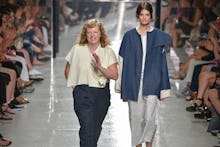 Designer Claire McKinney is living the post-grad dream.
The 22-year-old just graduated from the Pratt Institute in May. Instead of packing up her dorm, she snagged an assistant designer position at the luxury brand Creatures of Comfort — oh, and landed a spot presenting her line at New York Fashion Week.
That makes her arguably the youngest female designer in the entire lineup. And she's using her perch to turn out gender-neutral clothing that's as cool as it is actually useful.
Designing clothes that are actually wearable: Growing up in Lake Oswego, Oregon, McKinney was introduced to fashion at a young age. Her grandmother, whom she cites as her main inspiration for her new collection, worked on a sheep ranch and taught her to sew early on.
"A lot of the first things I sewed were pioneer costumes because — and I guess this is weird — I was really into the Oregon Trail," McKinney told Mic. "I grew up right beside it, so even then, I was interested in utilitarian clothing and clothing that had a lot of strength to it and usefulness." 
After enrolling at Pratt in New York City, she realized her rural roots were heavily influencing her designs, and that her background set her apart as a designer from a lot of her more "street smart" classmates. 
"It was the first time people around me were designing items that were highly functional."
"I got in school and I was exposed to a lot of interesting things going on that weren't necessarily about the mainstream fashion industry," McKinney said. "It was the first time people around me were designing items that were highly functional, which is exactly what I was interested in." 
She was familiar with the clothing worn on farms in Oregon and Europe, but now that she lived in New York, she was exposed to the uniforms worn by street cleaners and the urban workforce. 
"I grew up very close to a workforce of people who base their living off farm work. Even seeing those people at the grocery store or suburban malls, these people who dressed as farm laborers, was inspirational," she said. "In New York, you have a different type of uniform, like jumpsuits and matching tops and bottoms." 
Mucking around with un-fancy materials: Her aesthetic began to sway toward using unconventional materials, eventually including heavier textiles like tarp and thick denim. Fabrics for her senior thesis collection for Pratt, which she's showing by appointment this Fashion Week at Ralph Pucci's showroom, include industrial tarp and a super-thin polyester you can "poke your hand through" that's commonly used to cover crops on farms in Sweden. 
These creative materials aren't limited to details or small swatches, but rather are used just like fabric — which would make her an excellent contestant on Project Runway, for what it's worth. 
"At Pratt, someone would say 'Whip up something in 40 minutes' or 'Take this jacket and make it into a new jacket.' You have to jump a bunch of hurdles to make your brain think that way," she said.
"For me, if I start getting ideas, I go straight to a thrift store and buy the most disgusting workwear I can find and start cutting into it and laying it out and pressing and turning it," she said. "Deconstruction is something we all work with from the beginning and it gave us the opportunity to create our own design process in a way that makes sense."
Beautiful clothes, no matter the gender: McKinney was up for a similar challenge when she took an internship at luxury brand Creatures of Comfort during her senior year. Over her five months there, staffers took note of her own thesis collection, which she was putting the finishing touches on.
That collection ended up embodying a unique, unisex aesthetic influenced by rural agricultural landscapes and workwear. One key goal was to bridge the space between men's and women's clothes "to create a medium space," she told InStyle's Eric Wilson.
Thinking outside the gender box, not to mention the high fashion box, won her the Liz Claiborne Concept to Product Award at Pratt and a profile in Vogue. She was also offered a position as an assistant designer at Creatures of Comfort.
"What put her in the spotlight was really her collection. When she was designing it and making the samples, we knew how successful it would be," Mariana Gatti, Creatures of Comfort's head of production and project management, told Mic. 
Now that collection is on display at Fashion Week, showcasing that peculiarly practical approach that transcends fashion's traditional boundaries.
"[The attraction] might come down to my choice of materials, and denim as a key textile in my collection," McKinney said. "Everyone has a familiarity with it. It's a real American staple. Maybe the way I use it is really intriguing. I think people are just really drawn to that."
Baggy denim that feels comfortable, works practically and doesn't hem us in? Leave it to a 22-year-old to know exactly what we all need.