14-Year-Old Ahmed Mohamed Sent to Jail for Bringing Homemade Clock to School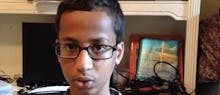 Ahmed Mohamed, a 14-year-old Muslim student, was arrested at his high school in Irving, Texas, after bringing a homemade clock to class, which school officials mistook for a bomb. 
Though Mohamed had repeatedly said his device was merely a clock he threw together in 20 minutes Sunday night, it did not stop the device from being confiscated as "evidence," nor Mohamed from being suspended from MacArthur High School, the Dallas Morning News reported Tuesday.
Mohamed, who had been a middle school tech savant, says he was just trying to impress his new teachers.
"My hobby is to invent stuff," he told the Dallas Morning News. "Here in high school, none of the teachers know what I can do."
He added that the incident made him "feel like a criminal" and inhuman.
Mohamed said he first showed the timepiece to an engineering teacher Monday morning who complimented his work but tellingly suggested he not show anyone else. The clock remained in Mohamed's backpack until its digital alarm went off inadvertently in an English class later that day. 
His English teacher took a far more skeptical view, telling Mohamed it looked like a bomb. She kept the clock and later that afternoon, the teenager was in handcuffs as police marched him out of the school to a juvenile detention center. 
"Yup. That's who I thought it was," one of the officers who greeted Mohamed in the principal's office reportedly said, according to the Dallas Morning News. Mohamed says he had never seen the officer before. 
"He just wants to invent good things for mankind," Ahmed's father, Mohamed Elhassan Mohamed, told the Dallas Morning News. "But because his name is Mohamed and because of Sept. 11, I think my son got mistreated." 
The elder Mohamed was not the only one crying foul after the incident. Representatives from the Council on American-Islamic Relations, an advocacy organization, said they were planning to meet with the MacArthur high principal and the Irving police chief to discuss the incident. 
"I think this wouldn't even be a question if his name wasn't Ahmed Mohamed," Alia Salem, the organization's executive director for the Dallas-Fort Worth area, told local television station WFAA. "He is an excited kid who is very bright and wants to share it with his teachers."
The precocious teenager is far from the first student to be the victim of school overreaction. In March, one school suspended an 11-year-old Virginia student for possessing "marijuana" that later turned out to be an ordinary leaf; in 2013 a 7-year-old was busted for a "pop tart gun."
Online, the reaction was swift, with the hashtag #IStandWithAhmed making the rounds on Twitter. Few, however, took up the cause with more vigor than tech entrepreneur Anil Dash. Seemingly just with Twitter, Dash managed to contact the family and post updates from their struggle. 
On Tuesday, the school issued an official statement defending their actions. "Our school is cooperating fully with the ongoing police investigation, and we are handling the situation in accordance with the Irving ISD Student Code of Conduct and applicable laws," wrote principal Dan Cummings. "Please rest assured that we will always take necessary steps to keep our school as safe as possible."
Mohamed, meanwhile, says he's done bringing his inventions to school.