#IStandWithAhmed Exposes the Islamophobic Double Standard of 14-Year-Old Muslim's Arrest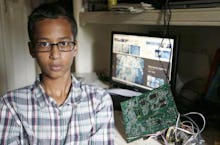 On Monday, Ahmed Mohamed, a curious and talented ninth-grader who invents things in his spare time, proudly brought his homemade clock to school in Irving, Texas, to show his engineering teacher. However, after the clock's digital alarm went off during Mohamed's English class, another teacher saw it and thought it was a homemade bomb. That instructor reported him, and soon after, five policeman arrested Mohamed and took him to a juvenile detention center. 
When pressed about the device's purpose, Mohamed told officials the clock was just a clock. But MacArthur High School teachers and local authorities seemed unsatisfied with that story. "We have no information that he claimed it was a bomb," police spokesman James McLellan told the Dallas Morning News. "He kept maintaining it was a clock, but there was no broader explanation."
It wasn't long before people, including the boy's father, accused those involved in Mohamed's arrest of racism. Had he been a white boy without a Muslim-sounding name, this never would have happened, many said.
"He just wants to invent good things for mankind," Ahmed's father, Mohamed Elhassan Mohamed, told the Dallas Morning News. "But because his name is Mohamed and because of Sept. 11, I think my son got mistreated."
Nerds and supporters of Mohamed from across the country have taken to Twitter to offer their support — and their outrage at what many are calling blatant racism in  the way the school and law enforcement handled the situation. Their campaign has come in the form of a hashtag: #IStandWithAhmed.
During the interrogation, police officers repeatedly brought up the boy's last name, reports the Washington Post. While Mohamed has since been released, he still faces potential charges of making a hoax bomb.