These 31 Women Prove How Awesome It Looks to Break the Fashion "Rules"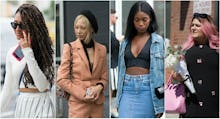 Pay all the lip service you want to "self-expression," but fashion is undoubtedly filled with rules. There are those that are spoken — no white after Labor Day, no velvet in the summer — and those that go unspoken but unfortunately ring loud and clear (no crop tops for plus-size women, anyone?). 
But the truth is this: When you break the "rules," that's when fashion starts to get really fun. Nowhere is this more evident than at Fashion Week, which has nearly completed its sweep through New York City this week. For bloggers, editors, photographers, designers, makeup artists, students and plain-old fashion enthusiasts, Fashion Week is a biannual excuse to dress up in whatever risky, daring or aggressively trendy items they please — and in the process, they end up inspiring others.
With the expert eyes of Lisa Arbetter, editor of the newly relaunched People StyleWatch, we scoured the streets of New York City to find the women and men who are throwing out the fashion rulebook in the most badass ways. Here's photographic proof, along with Arbetter's commentary, of just how much the "rules" really matter.
1. Pajamas are for indoors only.
"The pajama shirt has been happening for awhile, but full-on PJs is a bit more daring."
2. Only models can wear crop tops. 
"Crop tops are having a moment, because high-waisted pants and skirts are so big. With the new proportions, you only see a flash of skin. It's a less obvious way to do sexy, but one that works for plenty of women."
3. Jerseys should be saved for the sporting events.
"There are two different ways to wear this one: The first woman offsets the sportiness with a cute pleated mini while the second went all in with denim Bermudas and sneakers."
4. Crayola-colored hair is for teenagers.
"I love how the woman with the red hair matched her flowers to her outfit. It made me smile."
5. Fringe skirts should be saved for Dancing With the Stars.
"This is actually classic 'street style.' You pair opposites: a very flirty, dressy skirt with a serious, crisp tailored top."
6. If you're going to make a colorful statement, only do it with one item.
"Print-mixing is pretty universally scary. Doing it well makes for an interesting outfit, but it is definitely an advanced styling trick — and these women nail it with bright colors and patterns."
7. Socks with sandals are for grandpas only.
"Socks with sandals may not find wide appeal, but it can look quite cute. Ankles socks with pumps or brogues is an easier way to add a quirky touch."
8. Skirts or pants — you have to pick one.
"I've been seeing this look coming back. These women both did it in a new way. The long slotted tunic is a very chic look, while the suede wrap is a bit edgier."
9. Suits are serious business. 
"I love a suit in an unexpected color — pulled-together but also really stands out."
10. Sneakers require pants.
"Sneakers with a dress or skirt looks effortless. The simpler the sneaker, the easier it is to wear in unexpected ways."
11. Sequins, tulle, ballgown skirts — if you could wear it to a black tie wedding, you shouldn't wear it in daytime.
"Evening for day is a cool girl go-to. Mix the dressy item with a tee, denim, sneakers or anything with the opposite vibe!"
12. Fashion Week and hoodies don't mix.
Take that, fashion rules.