2016 Presidential Poll Results: Carson Gains Ground on Trump in Latest New Hampshire Poll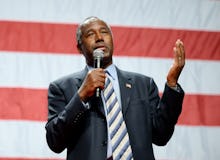 Each day, it appears Ben Carson is getting closer to stealing the Republican ticket from frontrunner Donald Trump. 
According to the latest survey Wednesday in the swing state of New Hampshire, Carson is just three points behind Trump. The figure comes at a prescient time considering it's the same day as the second prime-time Republican debate of the year.
Carson now holds 17% of support among undecided Republican primary voters in the state in a survey conducted by the MassINC Polling Group for Boston's WBUR. Compared to Trump's 20% majority, the survey finds a continued gain in Carson's campaign while Trump's surge seems to be somewhat slowing down.
As the two GOP frontrunners who have never actually held political office continue to climb in the polls, Republican politicians continue to struggle finding support in battleground states like New Hampshire. 
Former Hewlett-Packard CEO Carly Fiorina, another candidate who has never held office, sits in third with 9%, and she appears to be making ground. Fiorina used controversial remarks made by Trump regarding her appearance in recent weeks to divert the spotlight from the real estate tycoon onto her campaign. 
The CNN Republican Primary debate airs at 8 p.m. Wednesday at the Reagan Library in Simi Valley, California.