Watch Ariana Grande Sing Brilliant Impressions of Britney Spears and Christina Aguilera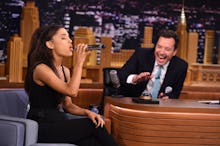 Fans have known it for years: Ariana Grande has one of the most dynamic voices in pop. The rest of the world is catching on slowly but surely. Her pipes are also surprisingly adaptable, as proven by her appearance Tuesday on The Tonight Show Starring Jimmy Fallon.
While playing the Wheel of Musical Impressions, Grande offered up spot-on impressions of Britney Spears and Celine Dion. Yet her impression of Christina Aguilera singing the immortal classic "The Wheels on the Bus" is what really blew Fallon and the rest of the audience away. It had Fallon beside himself with joy, sheepishly telling his producers offstage, "I want that recording."
Grande nailed all of Aguilera's characteristically flashy vocal runs, even throwing in a little bit of the growling emphasis Aguilera often adds to some of her syllables. They're techniques Grande uses in her own repertoire as well — her ability to call them forth on demand proves she's studied her forebearers.
To his credit, Fallon performed a pretty capable Sting and Aaron Neville, but this round was all about Grande. Watch the full video below.
h/t Uproxx