All the Best Clubs May Soon Be Silent Discos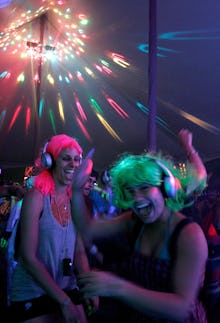 In the broad daylight of an early September evening, several dozen people gathered outside of one of midtown Manhattan's busiest intersections. They were bumping and grinding, superman-ing and nae nae-ing, wearing bright light up headphones. There was a lot of sonic fuel driving these bodies, but from the outside it was almost completely silent — comically so, like a music video with the sound off.
They were participating in an organized dance party known by many names: silent events, quiet clubs or the most common and infamous, silent discos. They made their debut in the United States over a decade ago, popping up at music festivals as a way to keep the party going despite noise restrictions. Now they've grown into their own widespread trend, popping up in more and more unexpected places. 
The parties have an extremely dedicated fan base. At One Penn Plaza, one man, dressed in full Under Armor athletic attire, broke into one of the most spirited, full-bodied nae naes ever whipped. He attracted a group of wide-eyed onlookers, but he ignored the attention.
"I would say if I was in a regular club, I would be hesitant and worry about people around me," Jonathan, 33, told Mic, saying this was his eighth silent clubbing event so far. "But when I have the headsets on, I feel like I'm in my own world, in my house. I'm moving and grooving — nothing's bothering me. Who cares about those who's watching me be and recording me at the same time? At the same time, I'm loving it."
He's not alone; millennials go to fewer clubs in 2015. This growing craze may change that. It's definitely not a passing fad.
A party years in the making: Silent discos have been around at least since 2005, when the Glastonbury Festival held the first major event as a way to keep the party going despite noise restrictions. Tennessee's Bonnaroo festival followed suit shortly after, contracting Ryan Dowd, then a tour manager for bands Widespread Panic and Drive-By Truckers, for the set-up.
"What started as a response to noise ordinances has now become its own attraction," Dowd told Mic, who made silent clubbing his full-time gig as owner and founder of Silent Events. The company prides itself on being "America's first, largest and most experienced silent disco provider." 
"We do events sometimes now starting at 2 o'clock in the afternoon and go all day, where before they wouldn't dare have us start until 2 in the morning," he said.
We're seeing more and more, and hearing less and less. Brooklyn Nine-Nine featured a silent disco in a season 2 episode last fall, with Terry Crews quipping that there's nothing disco about it at all. It's popping up in television advertisements.
Other companies, such as Hush Silent Systems and ZeroDB, host parties using similar technology. Quiet Events, which also hosted Penn Station's courtyard party, holds a massive events every Friday in New York's Queens borough, where they attract up to 1,500 people, according to founder Will Petz. He says he despises the term "silent disco," because it doesn't describe the music that plays and it keeps the parties tied to the festival scene where the events got their start.
"Everyone thinks, 'Everyone must be high and on drugs,' and they're not. We actually find that people drink a little bit less because they're having so much fun." Petz told Mic. "This is not that raver types, weird hair. It's totally mainstream, and we're trying to keep it that way."
Anytime, anywhere: Most of the dancers outside Penn Station looked like Quiet Events' ideal. Many were still wearing suits, ties and uniforms, unwinding from a long day by dancing to music from one of two DJs, spinning via short-range radio waves on opposite sides of the courtyard. Nicole, 24, had her headphones set on blue, listening to some throwback Kriss Kross. "I'm more of a head-bopper," she told Mic. "After a few drinks maybe I'll dance, but no, this is chill."
Jackie, a 38-year-old visitor from the United Kingdom, also surveyed the scene from its edges. "It's interesting, it's so inclusive," she said, noting how easy it was to forget about the headphones. "I think it actually works better here than in the U.K. English people are more self-conscious. I feel there's a lot less here self-consciousness here — though headphones and the lights help. Everyone looks slightly ridiculous."
The allure of the absurd: According to Petz, this ridiculousness is an important part of the event's appeal. "It's an instant icebreaker," he said. "Your instant icebreaker is: one, 'Have you ever done this before? It's kind of weird, right?' Or, 'I see you've been listening to '80s all night; I love '80s too.'" 
Petz says the ability to switch between channels taps into human beings' natural social urges to group up and create in-crowds. One might think that the ability to switch away to another channel might up the pressure on DJs to really keep their mixes turnt. Petz claims some DJs thrive off that sense of competition; however, other veterans brush it off.
"It's really about giving people extra choice, instead of like this 'Who won this round?' kind of thing," internationally touring DJ Quickie Mart told Mic. He's the DJ who played Bonnaroo's first silent disco and this year's 10th anniversary of the tent. He describes that first party as a pretty painful affair. 
"Nobody knew what it was; the technology wasn't there," he said. Over the years, however, he's watched it grow. "Then it was a 150-person tent, now it's a 1,500-person tent. It's definitely evolved." 
Quiet clubbing's biggest proponents feel it's here to stay. 
Its cult following grows with every person who realizes dancing is not as awkward and isolating as it first appears. Still, it has a ways to go before it stops drawing confused gawkers baffled by the fact that there's no actual disco playing in the headsets.
"We're a generation of people who have a phone that's also a video camera that's also a computer," Dowd said. "I think we are so used to having options, we kind of get bored easily as a society. I think this extends that culture we have. This is what will give it longevity: the options you have to choose your experience in terms of music, volume or not even wearing your headphones and having a conversation with your friend five inches from a DJ booth, where normally your ears would be bleeding."