Apple CEO Tim Cook Gets Personal With Stephen Colbert About Coming Out as Gay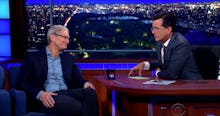 On Tuesday night, Apple CEO Tim Cook paid a visit to the Ed Sullivan Theater in New York City to chat with The Late Show host Stephen Colbert. 
Armed with his Alabama twang and a big smile, Cook covered everything from the new iPhone 6S to his own sexuality. Colbert, though characteristically jovial, didn't shy away from the tough stuff. He prodded Cook with questions about Apple's manufacturing standards abroad — which have garnered controversy in the past — as well as the not-so-flattering cinematic portraits of his late boss, Steve Jobs.
"I have to admit, I feel a little naked," Cook quipped as he sat down in front of the audience.
Cook and his people brought a new rose gold iPhone 6S for Colbert to play with, and play with it he did: He explored the new 3-D touch feature ("It kind of touches me back!") as well as the new Live Photos, which capture the second just before and just after a photo is taken and produces a glorified GIF.
Colbert also asked Cook about the possibility of an Apple driverless car — "You guys aren't big on secrets. Tell me about it. Come on. The cat's out of the bag here." — and his take on the recent portrayals of Jobs.
"He saw things other people could not," Cook replied. "He had this uncanny ability to see around the corner, and to describe the future. Not an evolutionary future, but a revolutionary future."
But perhaps the most interesting and candid moment in the interview came when Colbert asked Cook about coming out as a gay man, and if his upbringing as an "outsider" influenced his desire to help people around the world. When Cook came out, he became the only openly gay CEO in the Fortune 500.
"It did," Cook said. "In all honesty, every day I come to work, in front of my desk, I have a photo of Robert Kennedy, and a photo of Dr. King. And every day I sort of ask myself, it was Dr. King's quote that said, 'Life's most persistent and urgent question is, what are you doing for others?' And it became so clear to me that kids are getting bullied in school, kids were getting basically discriminated against, kids were even being disclaimed by their own parents."
"I needed to do something," he continued. "And that where I valued my privacy significantly, I felt that I was valuing it too far above what I could do for other people. So I wanted to tell everyone my truth."
"I felt a tremendous amount of responsibility to do it," he added.
Cook is notoriously private, but he told Colbert that to many people around him, his sexuality wasn't news — it was like discovering a feature on the iPhone that was always there.
The interview concluded with a bit about Siri. "Do me a favor," everyone's favorite automated voice said. "Ask him when I'm going to get a raise." Cook burst out laughing.
Watch the full interview below: