Gloria Steinem and Kate Spade Promote the Best New "Trend": Dining Alone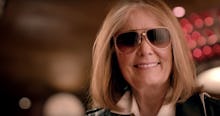 Designer Kate Spade, who specializes in glitter and stripes and handbags that resemble mushrooms, has chosen a pretty badass celebrity spokeswoman — and a great "trend" to promote.
The latest Kate Spade ad released on Monday shows Pitch Perfect actress Anna Kendrick and none other than Gloria Steinem dining in a fancy restaurant. The mini-movie, entitled "The Best Company," has Kendrick joined by a Brussels Griffon pup and a $398 gnome purse, which she treats as her date, at the ritzy Russian Tea Room in New York. 
After Kendrick gets offered free booze and oozes insecurity to her gnome boyfriend with her spot-on ramblings ("Hashtag... #datingmypurse. Is that funny or kinda worrying?"), Steinem makes an appearance to allay Kendrick's doubts: Dining alone can be glamorous.
In fact, the "no-date-no-problem mentality," according to Steinem, is a civil right.
A most glamorous feminist message: Steinem doesn't just make a quick cameo. The 81-year-old icon has signed on for several Kate Spade videos, including a follow-up in which she talks about women flying solo.
"When I started, you couldn't go into a certain number of hotels alone if you were a female," Steinem says in "Essential Gloria." "You couldn't be seated alone. There was something scandalous about it. Finally, if you were seated alone, it was by the kitchen. So it is actually a civil right to dine alone."
Of course, the Kate Spade spot promotes that idea in a cheekier fashion. Steinem approaches Kendrick's table, scooting into the booth to attack a croquembouche. "Dig in!" Kendrick exclaims. 
"Oh, I thought you'd never ask!" Steinem says. 
Feminism! 
The beauty of flying solo: Steinem is just one of a group of older female trailblazers the fashion world is paying attention to. Joan Didion posed for Céline. Cher modeled for Marc Jacobs. Joni Mitchell was snapped for Yves  Saint Laurent. It's refreshing to see women we've come to admire in the pages of Vogue, and it speaks to the idea that young people are seemingly fine with people of all ages repping their favorite fashion brands. 
Steinem, of course, wouldn't just pose; she's got a feminist message, albeit a small one, to send. The concept of dating yourself (also known as "masturdating") and not being afraid of societal judgment — or harm — is gaining steam. In the Instagram-happy world we live in, separating yourself from the crowd and living your own, often unexciting life can be a challenge.
But it's worth it. In a study highlighted by New York magazine's Science of Us, "there was no statistically significant difference in how solo people and group members rated the experience afterward — everyone had the same amount of fun."
So go out there. Date yourself. Dine alone. Just think of all the nonjudgment you'll pass on yourself as you Instagram the perfect image of your food. Just think of the freedom. 
And according to Gloria, you have the power to make it glamorous too. 
h/t Elle.com