iOS 9: How to Download Apple's Latest Operating System on Your iPhone and iPad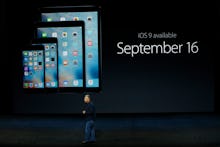 The latest version of Apple's operating system, iOS 9, is here. Starting Wednesday at 1 p.m. Eastern, iPhone and iPad users can upgrade their devices with the new and better operating system, which includes a bunch of new features like a "low power" mode and "proactive search." 
The new iPhone 6S and 6S Plus and the iPad Pro, coming out Sept. 25 and in November respectively, will already boast the latest versions of Apple's iOS. But if you're already an Apple product holder and don't plan on buying the latest iterations of the iPhone or iPad, here's how to download the upgrade on your existing device. 
Are you compatible? The first thing to do is to check your device's compatibility, Wired reports. Still sporting the iPhone 4 or an earlier iPhone version? Unfortunately, iOS 9 won't be available on older devices. 
Basically, any phone that was compatible with iOS 7 (the iPhone 4S, the iPhone 5, the iPhone 6 and, of course, the latest iPhone generation, as well as the iPhone 6S and 6S Plus) can download iOS 9. The iPad 2 and newer models, as well as the fifth-generation iPod touch and later iPod touches, are also iOS 9-compatible. 
Two ways to upgrade: To install directly on an existing iPhone or iPad, go to the device's settings, hit "general," then "software update," then "download and install." Once the new operating system has finished downloading, you'll choose whether to install now or later. "Keep in mind that your device will restart when installation is finished, and you won't be able to use it during the installation," Wired reports. 
The second way to update to iOS 9 is through iTunes. First, make sure to have the latest version of iTunes downloaded on your computer. Then connect your phone or tablet. The device will pop up in iTunes; hit the summary box. Click "check for update," then download. 
As with any update, it's always a good idea to back up your phone or tablet before making any changes to your device. To find out how, click here. 
In anticipation of iOS 9, a bunch of new apps are already available in the app store that take advantage of these updated features, 9to5Mac reports.