Kit Harington May Have Accidentally Admitted Jon Snow Is Not Dead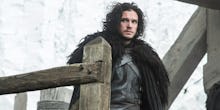 Kit Harington, the actor who plays Night's Watch lord commander Jon Snow in HBO's Game of Thrones, may have just done away with the pretense that his character is dead.
In a recent interview with Belgian magazine Humo, Harington seemed to admit he would be under contract with the show for quite some time to come, according to Redditors who provided a Dutch-to-English translation of his comments. He said viewers would know for sure when he was through with the series because he would be working on movie projects.
Kit Harington: "I often felt frustrated as well. I had to pass on amazing parts because I was attached to Game of Thrones. So the show is like a double-egded sword to me: I owe a lot to it, but at the same time it has almost completely drained me. Oh well, I try not to think about it too much. The important thing is that I now know exactly how long I am still under contract, and in the meantime –"
Humo magazine: "How many more seasons would that be?"
KH: "Nice try (laughs). I can't talk about that. Let's just say that Game of Thrones will remain a part of my life for a while, I'll probably be in my thirties when it's over. One thing's for sure: the day I'm no longer on Thrones is the day I'll bury myself in movie projects (laughs)."
Harington certainly isn't busy playing Jon Snow's corpse, unless he's about to become a wight. The most likely explanation is that for some reason, his character is not yet dead (or is about to be resurrected by Melisandre) and will continue to fight against the Others in coming seasons. It is also possible Harington is going to play Snow in flashbacks, dream sequences or weirwood visions.
A Game of Thrones fansite recently spotted the actor amid preparations for a major battle scene northern Ireland, while photos from Wimbledon in early July demonstrated he was maintaining his character's hairdo.
Fans of the book series may want to tear their hair out at all the premature spoilers that keep emerging from HBO's development process. But let's be real. Franchise creator George R.R. Martin was never, ever going to finish the books in time to keep up with the show anyways.
h/t The Daily Beast