The Hypocrisy of the Anti-Muslim Bigotry Arrest of Ahmed Mohamed, in One Tweet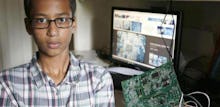 On Monday, 14-year-old tech savant Ahmed Mohamed was arrested and suspended from MacArthur High School in Irving, Texas, for bringing a homemade clock after an English teacher suspected it was a bomb. 
Speaking to the Dallas Morning News, Mohamed's father, Mohamed Elhassan Mohamed, suggested the suspicion and arrest were racially motivated. "His name is Mohamed and because of Sept. 11, I think my son got mistreated."
While the Internet promptly exploded in support for the teenager under the hashtag #IStandWithAhmed, one tweet from a blogger from Pakistan shows the double standard of what Texas law enforcement views as threatening. 
The tweet shows the younger Mohamed, left, in handcuffs as police led him out of his high school Monday. On the right are two white, gun-holding children who showed up with other open carry activists at a 2014 arts festival in Fort Worth, Texas, where the group had previously been banned. Neither the children nor other members of the group were arrested.
When police arrested Mohamed, he was reportedly acutely aware of his race after one officer he had never seen before reportedly said, "Yup. That's who I thought it was," according to the Dallas Morning News. Police also continually asked for an "explanation" for why he built the timepiece at all.
Online, the hashtag #IStandWithAhmed took off.
While the precocious teen has not reportedly sworn off building things, he is done bringing his creations to class.