Joe Biden Just Slammed Donald Trump for His "Sick Message" of "Xenophobia"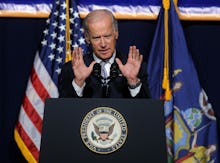 Vice President Joe Biden remains undecided about a potential Democratic primary bid, but you wouldn't know it from his performance at a get-together Tuesday marking Hispanic Heritage Month.
Biden peeled the bark off Republican presidential frontrunner Donald Trump during an event in Washington, D.C., calling the billionaire's anti-immigrant message "sick" and an appeal "to the baser side of human nature."
"There's one guy absolutely denigrating an entire group of people, working on this notion of xenophobia in a way that hasn't occurred in a long time," Biden said, according to CNN.
Trump, who kicked off his campaign by calling Mexican immigrants "rapists," has rocketed to the front of the Republican pack and will stand, literally, center stage during Wednesday night's Republican debate. Biden, whose son died of brain cancer this spring, is still considering a run of his own.
"Folks, the American people are with us. I know it doesn't feel that way, but I'm telling you, I'm telling you the American people agree with us," he told the audience, which answered with a chant of "run Joe, run!"
Biden demurred, saying "no, no, no," before making the sign of the cross and stepping away from the podium.
Whether he will stride so easily out of public life is an open question.
During an interview on The Late Show With Stephen Colbert last week, Biden said he was unsure if he had the emotional energy to effectively conduct a presidential campaign.
"I don't think any man or woman should run for president unless, No. 1, they know exactly why they would want to be president and, number two, they can look at folks out there and say, 'I promise you, you have my whole heart, my whole soul, my energy, and my passion to do this,'" Biden told Colbert.
"And I'd be lying if I said that I knew I was there."
The first Democratic debate is scheduled for Oct. 13 in Las Vegas. If Biden is there — and "there" — expect a show worthy of the host city.
Watch Biden's comments on Trump's here: