Republican Debate Live Stream: Watch CNN GOP Debate Live Online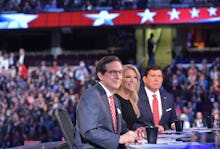 CNN has decided to do things somewhat differently for the second round of Republican debates. Moderator Jake Tapper is hoping candidates will "actually debate" during Wednesday night's second primetime debate, while CNN is featuring a live online stream on their home page.
The following leading Republican presidential hopefuls will fight for the attention of voters nationwide: Donald Trump, Ben Carson, Carly Fiorina, Jeb Bush, Ted Cruz, John Kasich, Marco Rubio, Scott Walker, Chris Christie, Mike Huckabee and Rand Paul. 
While the official debate kicks off at 8 p.m. Eastern, viewers can tune in to the live online stream earlier to catch the rest of the Republican flock still vying for support who didn't make the cut into the main event. The earlier portion, starting at 6 p.m., will feature Rick Santorum, Lindsey Graham, Bobby Jindal and George Pataki. 
The back-to-back debates are both being held at the Reagan Library in Simi Valley, California. The live online stream will be available via CNN from 6 p.m. to 11 p.m EDT.