Apple Watch OS2 Update: Release Delayed Because of Bug in Software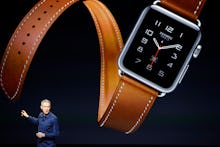 As tech consumers await the iOS 9 and watchOS 2 upgrades to their Apple gadgets, the global company has announced some bad news: Apple will not be releasing the new Apple Watch software on Wednesday as previously scheduled.
An Apple spokesperson tells TechCrunch, "We have discovered a bug in development of watchOS 2 that is taking a bit longer to fix than we expected. We will not release watchOS 2 today but will shortly." Those who own the smartwatch have been anticipating the upgrade since it was announced during the Apple Keynote event Sept. 9. 
According to Apple's press release:
WatchOS 2 makes apps faster and more fluid by running natively on Apple Watch, and introduces new watch faces, the ability for third-party apps to display information on the watch face as complications, and an innovative way to see future events, past headlines and more with Time Travel. WatchOS 2 also includes new communication features such as the ability to respond quickly to Mail with dictation, Smart Replies or emoji, and Digital Touch enables more creativity with multiple sketch colors.
The free update was expected to roll out to all Apple smartwatch owners Wednesday afternoon, at the same time iOS 9 becomes available for newer versions of iPads and iPhones. Now, those with Apple watches will have to wait a little bit longer.