Hillary Clinton Just Tweeted a Powerful Message to Ahmed Mohamed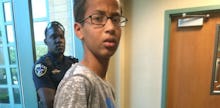 Ahmed Mohamed, the 14-year-old Texas student who was arrested after he brought a homemade clock to school, is experiencing an outpouring of support from across the country. Now he has one of the nation's most influential politicians in his corner: Hillary Clinton.
The former secretary of state became the first presidential candidate to weigh in on Mohamed's story, after the teen was marched out of MacArthur High School in suburban Dallas in handcuffs on Monday.
Those "assumptions and fear" Clinton mentions is a reference to the actions of school officials and local police, who failed to give Mohamed, who is Muslim, the benefit of the doubt when he brought in his clock to show to his teacher.
An enthusiastic tinkerer and member of the school's robotics club, Mohamed's room at home looks like "the back room at RadioShack," according the Dallas Morning News, which interviewed Mohamed and his family about the incident. On Sunday night, he created his clock in about 20 minutes and brought it into school the next day to show it to his engineering teacher, who told him "not to show any other teachers." 
After a second teacher noticed the device and thought it looked like a bomb, Mohamed was pulled out of class and questioned by the school's principal and four police officers. Despite repeatedly insisting his clock was just a clock that he had made at home, school officials and police officers didn't believe him.
"We have no information that he claimed it was a bomb," a spokesman from the police department in Irving, Texas, told the Dallas Morning News. "He kept maintaining it was a clock, but there was no broader explanation." He was led out of school in handcuffs by a pair of police officers and fingerprinted at a juvenile detention center before being released.
Mohamed's family chalks the incident up to clear Islamophobia on the part of the police and the school. "He just wants to invent good things for mankind," Mohamed's father told the Dallas Morning News. "But because his name is Mohamed and because of Sept. 11, I think my son got mistreated."
Incredibly, school officials are still investigating Mohamed. (Police announced they had closed the criminal investigation on Wednesday.) School officials sent a letter home to parents on Tuesday, encouraging them to "[use] this opportunity to talk with your child about the Student Code of Conduct and specifically not bringing items to school that are prohibited."
Mohamed's ordeal has sparked the trending hashtag #IStandWithAhmed and shows of support from a wide variety of public figures. So far, though, Clinton is the only presidential candidate from either the Republican or Democratic side to weigh in on the case, which speaks to issues of xenophobia, over-policing and education policy. But with the Republican candidates gathering for their second primary debate on Wednesday night, there's a good chance it just might come up.