The Most Popular Song From the Year You Were Born Will Totally Surprise You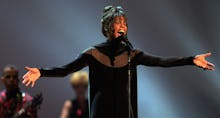 Back in American Idol's heyday, the singing competition would trot out a theme almost annually: songs from the year you were born. Contestants would perform popular tracks from their birth year as chosen from a pool. While nifty to hear the soundtracks of the singers' origins, this theme was always somewhat misleading. A song from the year you were born won't be familiar — unless you were a perceptive 2-month-old.
These aren't often songs one grew up with, but they're still artifacts from a crucial moment in one's timeline. Some hold up well. Others feel less like artifacts and more like relics. One is the "Macarena."
No matter which it is, though, the songs are special. Maybe your next karaoke hit is lying right in your personal history. (The years included, 1981 to 1997, are the birth years for millennials as defined by the Pew Research Center.)
The most popular songs were chosen based on Billboard's year-end charts, which serve as an accumulation of tracks' performance throughout the year on the Billboard Hot 100. Notably, this means songs released in previous years can top the charts in a subsequent year — like Olivia Newton-John's "Physical," which started topping the chart in 1981, was the top song for 1982.
Some facts and figures about this chart:
There are three cover songs among this group: Whitney Houston's "I Will Always Love You," originally written by Dolly Parton; Dionne Warwick's "That's What Friends Are For," first recorded by Rod Stewart; and Kim Carne's "Bette Davis Eyes" was on singer-songwriter Jackie DeShannon's 1974 album first.
While not a traditional cover, "Candle in the Wind 1997" was not the first version of said song. Elton John originally released "Candle in the Wind" in 1973. At the time, the song's lyrics were a tribute to film icon Marilyn Monroe ("Goodbye Norma Jean / Though I never knew you at all"). The 1997 version was a lyrical update to pay tribute to Princess Diana after her passing. He performed the song at her funeral.
Speaking of "Candle in the Wind 1997," because it was a two-sided single in some markets, John's "Something About the Way You Look Tonight" also shares the title with the best-selling song of 1997. However, "Candle in the Wind 1997" is by far the more notable song, breaking nearly every record in the books, including fastest-selling song in the United Kingdom. It's still one of the highest-selling singles in history, only outclassed by Bing Crosby's "White Christmas."
An odd coincidence: Two of the songs on this list were used prominently in the 2011 film Bridesmaids. Wilson Phillips appears in the movie's final act to perform "Hold On," while stars Kristen Wiig and Rose Byrne sing "That's What Friends Are For" while toasting their friend, the bride (Maya Rudolph).
"Candle in the Wind 1997" also ties for the title for most weeks at No. 1 among the songs on this list. It ties with Whitney Houston's "I Will Always Love You" and Los del Río's "Macarena" at 14 weeks. Boyz II Men's "End of the Road" came in close, with 13 weeks spent on the chart.
Among these songs, "Hold On" holds the record for shortest run at No. 1 with only one week. Interestingly, Chicago's "Look Away" actually never hit No. 1 in the year it was the top song; it spent two weeks atop the chart, but at the end of 1988, not in 1989.
Only two artists appear more than once on this list: John and George Michael. John appears on his own "Candle in the Wind 1997" and as a featured artist on "That's What Friends Are For" (along with Stevie Wonder and Gladys Knight). Michael has "Faith" and "Careless Whisper," the latter of which was a solo record despite being attributed to Wham.
Listen to all of the songs on the playlist below. (Note: Prince's catalog is exclusive to Tidal, and "Candle in the Wind 1997" is unavailable on Spotify. The Ginuwine cover of the former and the original, Monroe-centric version of the latter were used as substitutes.)