Kanye West NYFW Show Photos: First Images of Yeezy Season 2, Rapper's Latest Fashion Line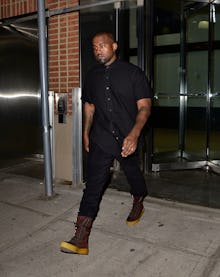 Rapper-cum-designer Kanye West unveiled his latest collection Wednesday at New York Fashion Week. The show began around 12:40 p.m. Eastern. Here are the first photos of West's military-inspired Yeezy Season 2: 
West joined the lineup of designers presenting at New York's coveted Fashion Week at the last minute, a move that wasn't without controversy. Some designers were angered by West's entry, which apparently caused some designers to reschedule their runway shows for fear the Yeezus would overshadow them. 
"Kanye knows he is a media sensation and it is just not ethical to do this," designer Anne Bowen, told Women's Wear Daily. Bowen moved her show to Thursday, CNN reports. 
"It's like we are David and he is Goliath," she said. "We have put our heart and soul into our show, and should not be stepped on like this."
West also made his models sign a nondisclosure contract, meaning they could be sued for talking about him or his wife, reality TV star Kim Kardashian, for up to $10 million, the Mirror reports.