People Everywhere Are Taking Their Clocks off the Wall to Stand with Ahmed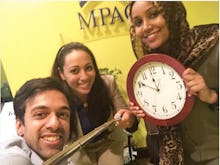 Tech's heavyweights have expressed support for Ahmed Mohamed, the 14-year-old boy who brought a clock he built to school and was arrested when a teacher thought it was a bomb. Then President Barack Obama and Democratic presidential hopeful Hillary Clinton weighed in. Now it's Mohamed's classmates at MacArthur High School in Irving, Texas, as well as peers and elders across the country who are standing up for the inventive 9th grader. 
Not in years have analog clocks been so en vogue.
The mass show of solidarity is a reaction to simmering Islamophobia, personified by the actions against a teenager who loves robotics, engineering and science. As police questioned him, they continuously referenced his last name, reports the Washington Post. "He just wants to invent good things for mankind," Ahmed's father, Mohamed Elhassan Mohamed, told the Dallas Morning News. "But because his name is Mohamed and because of Sept. 11, I think my son got mistreated."
As comedian Aziz Ansari said, he stands with Ahmed Mohamed because the boy's situation seemed quite familiar to his own. 
h/t Vocativ