Chrissy Teigen On Why You Should Never, Ever Ask a Woman When She's Having Kids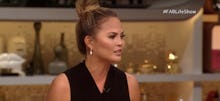 It's already been discussed at length why it's never OK to ask a woman why she does or doesn't have kids. 
But that hasn't stopped busybodies from peppering women with the question regardless, to the point that not even model Chrissy Teigen is exempt from having to answer it. But the Sports Illustrated model has had enough of the question — and she wants you to know that she's sick of answering it.
In an interview with Tyra Banks for Banks new show FABLife, Teigen opened up about her struggles conceiving with husband John Legend and how that informs her response to pesky questions about the status of her uterus.
Banks then chimed in, sharing her own experience with being interrogated about whether or not she's going to have kids.
"I am so tired of seeing on my social media, 'Why don't you have kids? Why don't you have kids?'" she said. "You don't know. You don't know what I'm going through."
An uncomfortable truth to face: Teigen and Banks highlight the uncomfortable truth about asking a woman why she doesn't have kids. Not only is it intrusive, but it can also yield answers that you might not want to hear. In Teigen's case, it isn't because she doesn't want children but because she struggles with fertility issues, like an estimated 7.4 million women in the United States. 
In Banks' case, it was simply a question of timing.
"When I was 23 years old, I used to tell myself, 'In three years I'm gonna have kids.' Then I turned 24," she said. "'In three years I'm gonna have kids.' And then just every single year I kept saying that. And then, after a while it's like, OK, now I want to — and it's not so easy."
As other stars have already made clear (thanks, Kim Kardashian), conceiving isn't as simple as it looked in Knocked Up. Even once a woman conceives, data shows that anywhere from 10% to 20% of pregnancies end in miscarriages in the U.S. alone. 
Whatever the backstory, whatever their reasons, some women don't have kids — and their lives can be fabulous nonetheless. So one more time, for the record: It's never OK to ask this question, so for the love of Pete, stop doing it. 
You can watch the full preview for Banks' show (which airs Sept. 21) below. 
h/t Refinery29