Texas Police Violate Ahmed Mohamed's Civil Rights by Keeping Him From Parents and Lawyer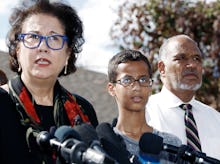 The country has risen up in support of Ahmed Mohamed, the MacArthur High School student and young Muslim who was arrested Monday morning for bringing a homemade clock to school that officials said resembled a bomb.
But the outrage over his possible racial profiling may not end with the fact that he was arrested.  
Mohamed says he was subject to another serious indignity: the violation of his civil rights. Mohamed was questioned by police and his principal at school and again at a juvenile detention center. But he was not allowed to speak to his parents or a lawyer or have those people present while detained by authorities, treatment the Daily Beast reports is in apparent violation of Texas law.
Section 52.025 of the Texas Family Code directly states "A child may not be left unattended in a juvenile processing office and is entitled to be accompanied by the child's parent, guardian, or other custodian or by the child's attorney."
Council on American-Islamic Relations Dallas-Fort Worth chapter executive director Alia Salem told the Daily Beast while being questioned in the principal's office, police officers refused to honor Mohamed's requests to speak to his parents, but instead searched his bags and confiscated property. The Dallas Morning News reported he was also threatened with expulsion.
Simply illegal: American Civil Liberties Union Texas staff attorney Satinder Singh confirmed to Mic that if all of those details were true, they would constitute a serious violation of Mohamed's civil rights.
"The basic rule is that once an officer makes a decision that he is going to arrest the student, they have to take them to a juvenile processing center ... [the minor is] allowed to have a parent or guardian guide them through that whole process," Singh said.
On the issue of racial profiling, Singh said he was not aware of every factual detail of the case but said, "I find it hard to believe that if Ahmed was named Bill Smith, if that Bill Smith brought in a clock he had engineered the night before, probably we would not be having this conversation."
CAIR communications director Ibrahim Hooper concurred, telling Mic, "We believe this is a gross overreaction to the situation that wouldn't have happened if his name wasn't Ahmed Mohamed." In addition to being kept without his legal right to have an adult present, Hooper says Mohamed "clearly was made to undergo a 'perp walk' in front of his classmates in handcuffs and treated like a criminal."
The Irving Police Department did not respond to a request for comment from Mic, while the city attorney's office had no comment.