Lindsey Graham Was the Big Winner of the 2016 Republican Undercard Debate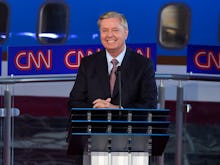 Simi Valley, California — There are few places in American politics less enviable than behind the podium at an undercard debate, but South Carolina Sen. Lindsey Graham used his spotlight at the "kiddie table" on Wednesday afternoon for all it was worth.
In a widely lauded debate performance, Graham may have finally proved to voters that his lackadaisical showing at the first Republican primary debate in August was a fluke. Graham easily outpaced his three debate opponents on the issues of immigration, foreign policy and the Republican Party's controversial front-runner Donald Trump, mixing serious condemnations of "cafeteria conservatism" with the debate's sole moments of levity. 
Graham didn't even bother introducing himself before cracking his first joke, thanking CNN for bothering to bring an audience to the undercard debate. "One, thanks, CNN, for having people at this debate," Graham said, referring to the uncomfortably empty first debate held by Fox News in August.
But his best moments weren't all singers: Graham also took his opponents and party to task for valuing celebrity and partisanship over governance. "I'm tired of telling people what they want to hear that I know we won't do," Graham said, an implicit criticism of candidates who are more concerned with stirring up anger than meaningful accomplishments in office.
"Lindsey Graham's a funny guy! And the American people got to see that, but he's also a very serious guy," Graham campaign manager Christian Ferry told Mic after the debate. "He's serious about how we have to fight and win this war against radical Islam, he's serious about his plan to defeat [the Islamic State], and if a little bit of humor and being yourself helps propel that message, then that's all the better."
How it unfolded: As the debate unfolded, members of the political media assembled at the Ronald Reagan Presidential Library, as well as debate viewers around the country, noted Graham's confidence, poise and humor:
It wasn't just politicos who saw Graham's aggressive debate performance as a good sign for the beleaguered Southern senator, either — viewers at home took to Google in droves to learn more about Graham as the debate unfolded, with searches spiking higher than any other candidate currently in the field:
The biggest winning tactic? Graham came across as genuine — and a grown-up. With the first five questions of the debate devoted to Trump, each of the four undercard candidates attempted to paint themselves as the only adult in the field. As a three-term U.S. senator, one of the lone military veterans in the Republican field and an acknowledged foreign policy expert, Graham didn't have to flex much muscle to out-perform his debate opponents with his experience.
"I've been in the military 33 years, 140 days on the ground in Iraq and Afghanistan," Graham said. "I am so ready to get on with winning a war that we can't afford to lose. I hope you believe that experience matters. When you vote for commander-in-chief, they are stuck with your choice. We've had one novice being commander-in-chief. Let's don't replace one novice with another."
Where Graham really showed his opponents up with audiences, however, was in the unofficial popularity contest. The senator delighted the debate audience (and the hundreds of assembled reporters in the filing center) with a half-dozen laugh lines, ranging on topics from Islamic terrorism to his admittedly mediocre performance as a law student ("By the end of this debate, it'll have been the most time I have spent in any library"). A line about the importance of sorting out inter-party tensions over a beer went over particularly well:
It's a major return to form for Graham. During the first undercard primary debate on Fox News, Graham was viewed by commentators and voters alike as withdrawn, even morose during much of the debate. Moderator Martha MacCallum, citing such inspirational presidential slogans as "We have nothing to fear but fear itself," asked candidates how they would inspire American voters. Graham's response? To depress the hell out of the viewing audience:
"When I was 21 my mom died, when I was 22 my dad died. We owned a liquor store, a restaurant, and a bar and we lived in the back. Every penny we got from Social Security because my sister was a minor we needed. Today I'm 60, I'm not married, I don't have any kids."
Although Graham's meandering answer did spike interest in his biography, those Google searches didn't materialize much of a groundswell in terms of support: The senior senator from South Carolina has averaged roughly one percent in national polling since he announced his candidacy. The poor performance even hurt the three-term senator at home: According to Public Policy Polling, 78% of Republican primary voters in his home state think that Graham should end his presidential campaign entirely. South Carolina Republicans also said that in a head-to-head primary between Graham and billionaire front-runner Trump, they would choose Trump by a 52-point margin.
The sleepy performance was a surprise for those familiar with Graham, who is known on Capitol Hill as an adroit and well-informed debate opponent — and also quite the cut-up (National Review once called him "The Comedian-in-Chief"). For those seeing Graham run the floor on Wednesday afternoon in Simi Valley, the performance proves that the Cleveland debate was an anomaly.
All that interest may not translate into votes. At the Fox News debate in August, Ohio Gov. John Kasich received wide attention for his considered, heartfelt approach to social issues, particularly same-sex marriage. But following a brief bump in the polls, Kasich remains mired in the bottom third of the crowded Republican field.
After the debate's conclusion, crowds of political journalists tripped over themselves (literally — one reporter lost her wedge) in hopes of catching a comment from the debate's acknowledged winner. Whether that excitement can translate into a Carly Fiorina-esque bump into the upper tier of candidates, however, remains to be seen.