Bobby Jindal Asked About Ahmed Mohamed at GOP Debate, Dismisses Discrimination Claims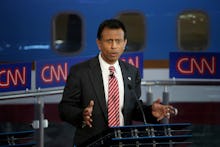 Louisiana Gov. Bobby Jindal brushed aside the notion that there's discrimination in the United States after Republican debate moderator and CNN anchor Jake Tapper posed a question to candidates about the arrest of 14-year-old Texas high school student Ahmed Mohamed. 
Asked where the line between national security and discrimination lies, Jindal responded, "We don't discriminate based on color of skin or their creed" in the U.S. Mohamed, who is Muslim, was arrested Monday for bringing a homemade clock to school that some school administrators said was a bomb. 
When pressed further to talk specifically about Mohamed's arrest, which sparked ire on social media and was swiftly criticized as anti-Muslim discrimination, Jindal said he didn't think a 14-year-old "should ever get arrested for bringing a clock to school." Jindal also said he thought Christians were the real victims of discrimination in the U.S., citing Kentucky county clerk Kim Davis. Davis drew national attention for refusing to issue marriage licenses to same-sex couples, a move that landed her in jail. 
"Right now, the biggest discrimination going on is against Christian business owners and individuals who believe in traditional forms of marriage," he said. "They're throwing this woman in jail in Kentucky. Let's talk about that."
Twitter users took notice of Jindal's response. Many thought Jindal skirted the question about Mohamed. 
Jindal met South Carolina Sen. Lindsey Graham, former New York Gov. George Pataki and former Pennsylvania Sen. Rick Santorum on the debate stage Wednesday for the so-called kiddie table debate. The main debate was scheduled for 8 p.m. Eastern.