Donald Trump's 2016 CNN Republican Debate Performance Is Lighting Up Twitter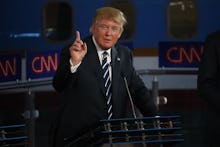 The second national prime-time debate is breaking the Internet. Then again, maybe it's just Donald Trump.
The real estate mogul took the stage Wednesday night along with 10 other Republican presidential hopefuls vying for the nation's attention. As other politicians focused on social, economic and international issues, Trump focused on attacking other candidates and being the night's biggest talking point. 
Voters quickly took to social media to post their support, confusion and hilarious reactions to the business mogul's performance at the CNN Republican Primary debate.
Trump started off the debate in high spirits, mocking the other candidates almost immediately with a wide array of faces:
As the debate continued, Trump began to highlight some of his biggest concerns with the nation's current state. Mostly, though, he noted the "huge" amounts of "bad dudes" illegally coming into the country from Mexico and other nations. 
When moderator Jake Tapper asked for Carly Fiorina's thoughts on Trump's controversial quotes about her facial appearance, audiences quickly noted just how heartfelt Trump's apology seemed, along with his political views on women's rights:
Twitter also lit up during several other moments throughout Wednesday night's debate, including when Trump decided the official national language should be English, to block all illegal immigrants with a wall and his continued beef with Jeb Bush: