The Second Republican Debate Didn't Have a Single Winner, But It Had a Clear Loser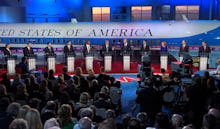 The CNN Republican debate was an 11-person free-for-all that stretched on for nearly three hours on Wednesday night. The sparring session on the crowded stage seemed to cover every topic under the sun, from taxes to minimum wage to the Islamic State to vaccines. As the night came to a close, though, it was difficult to determine if any one candidate could unambiguously claim the title of winner. 
But there was a clear loser: Any American who cares about three critical issues — police brutality, income inequality and student debt — that define much of the country's political life today. 
It was not for lack of time. Moderator Jake Tapper showered the GOP White House hopefuls with several overlapping questions on the same theme. More problematically, on a number of occasions he deliberately sought to instigate personal drama, such as asking Carly Fiorina about Donald Trump's disparaging remarks regarding her appearance and demanding Jeb Bush respond to Trump's comments about his wife. CNN was even eager to have every candidate answer a question about what their Secret Service code name would be.
Despite the ample time for melodrama and frivolity in a debate that was nearly an hour longer than a typical one, there was apparently no room for some of the most pressing issues for Americans of all political stripes.
There was no question or conversation on the epidemic of police brutality sweeping the nation — or Black Lives Matter, the sprawling social movement that has grown in response to it. While Republicans have historically been particularly bent on being tough on crime, the concern about police killings of unarmed African-Americans has reached such a fever pitch that several Republican candidates have weighed in on the need to re-evaluate police practices over the past few months — or the need to push back against such calls for reform. 
In the first debate, Fox News' Megyn Kelly asked Scott Walker about the movement; he didn't have a particularly substantive response. That's exactly why Wednesday's debate, which came after Black Lives Matter protests directly targeted Republican candidates like Bush, could've been so enlightening.  But when asked after the debate why he neglected to explore the issue, Tapper blamed time constraints:
Another conspicuously absent issue was student debt. Millions of Americans are currently buckling under the weight of a $1.2 trillion student debt crisis — and nearly 7 million are defaulting on their student loans. The issue has become so unmanageable that, in the past year, the federal government has taken aggressive measures to try and staunch the bleeding, from cracking down on for-profit schools (some of the leading sources of unmanageable student debt) to changing the financial aid process. Democratic presidential candidates Hillary Clinton, Bernie Sanders and Martin O'Malley have all pitched expansive plans for rehauling both the price of college and financial aid system. Yet, there was not a single question or serious discussion about the issue.
Finally, social inequality, whether measured in terms of income or wealth, received no explicit mention during the debate. That's peculiar, given that inequality early emerged as one of the presidential race's defining issues for both parties. The surge in popularity of someone like Sanders, a democratic socialist, is largely due to the fact that his political views offer a serious reckoning with the problem of skyrocketing inequality.
CNN's failure to delve into any of these critical topics is unfortunate. While there's no such thing as a debate that will satisfy every viewer, it's rather puzzling that some of the national conversation's hottest issues were shunned, while goofy questions about appearance and insults were considered prime-time material. Then again, maybe it's not.