Watch Elizabeth Banks and 6 Other Actresses Perform Real, Powerful Abortion Stories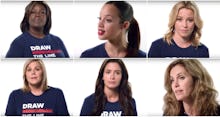 In honor of the 43rd anniversary of Roe v. Wade this week, the Center for Reproductive Rights has released seven powerful new videos as part of its Draw the Line campaign, an ongoing (and celebrity-studded) movement to speak out for reproductive rights. 
Incorporating the narratives of real American women who have chosen to submit their abortion stories, the videos feature actors Elizabeth Banks (Pitch Perfect), Dascha Polanco (Orange Is the New Black), Bellamy Young (Scandal), Amy Brenneman (The Leftovers), Mercedes Mason (The Finder), Mary McCormack (In Plain Sight), and Retta (Parks and Recreation). 
Each heart-wrenching clip tells a different woman's story, from one who chose to terminate a pregnancy after leaving her abusive ex-boyfriend; to another who faced major fetal anomalies with a wanted pregnancy; to another whose epilepsy put the fetus and her own health at risk.
"What I remember most about my experience is how the women I love stepped up to support the decision I was choosing to make," Banks says in one video, telling the story of "Rebecca," a college freshman in an abusive relationship, "because the life they were most concerned about was mine." 
"When you love someone, you want the best for them," she adds. "And that means you would do anything to protect them from being forced to do something against their will. I think most women feel that way. But when it comes to abortion, it can be hard to say the words."
These stories and the campaign are part of a larger move by reproductive rights activists to highlight individual accounts of what it's really like to have an abortion, humanizing an experience an estimated 1 in 3 American women has during her lifetime. Stars Jemima Kirke and Dee Dee Bridgewater have also contributed their own abortion stories to the campaign, illustrating how many women's lives are affected by limited access to reproductive healthcare.
Sharing abortion stories has also become a legal strategy. Dozens of similar personal histories have been submitted to the Supreme Court in support of Whole Women's Health v. Cole, a case challenging Texas' extreme abortion restrictions and the court's first abortion case in more than two decades. The justices are scheduled to hear oral arguments on March 2, but before they do, the Center for Reproductive Rights wants to make sure they, and the rest of the country, know the risks of further curtailing women's right to choose. 
"As we prepare to argue for women's access to safe, legal abortion services before the U.S. Supreme Court, we need to make it clear to politicians exactly what's at stake when they attack our reproductive freedom and fundamental rights," Nancy Northup, president and CEO of the center, said in a statement emailed to Mic. 
"This is about real women's lives, health and families. It's time to stand up and be heard. It's time to say that enough is enough, and that we are drawing the line." 
Watch some of the abortion stories from this year's Draw the Line campaign below: