Jeb Bush Admits to Smoking Weed 40 Years Ago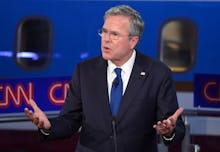 In the closing hour of the Wednesday's Republican presidential debate at the Ronald Reagan Presidential Library in Simi Valley, California, Jeb Bush made a surprise announcement when the subject turn to illegal drugs. 
During a larger discussion about the war on drugs and whether or not candidates would support more lenient drug policies, the son and brother of presidents said he had smoked marijuana in the past and speculated that he was far from the only one on stage who had. 
"Forty years ago I smoked marijuana and I admit it," said Bush. "I'm sure there are other people who may have done it and may not want to say it in front of 25 million people." 
"My mom's not happy that I just did that," he added.
This wasn't the first time Bush admitted to smoking weed. During an interview with the Boston Globe in February, he noted that getting stoned "was pretty common" when he was younger. A friend, meanwhile, recalled to the paper that he once got high in Jeb's room while the future candidate played Steppenwolf.  
In more recent times, however, Bush has become an opponent of marijuana legalization, vocally declaring his opposition to a Florida ballot initiative that would have allowed for "large scale" marijuana operations to begin in the Sunshine state.