Republican Debate 2015 Results: Carly Fiorina, Marco Rubio and Donald Trump Own CNN Debate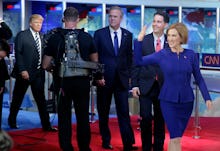 Wednesday night's CNN Republican primary debate marked the second time GOP hopefuls vied for the attention of American audiences. Though there were winners and losers, for once real estate tycoon Donald Trump wasn't the biggest elephant in the room. 
Former Hewlett-Packard CEO Carly Fiorina made her stance on several issues abundantly clear and managed to talk more than several other candidates. 
NPR's Domenico Montanaro, who kept track of the time each candidate spent responding to questions and speaking to other candidates, clocked Fiorina in at the third-longest talk time, with only former Florida Gov. Jeb Bush and Trump securing more air time.
Florida Sen. Rubio, who has been trailing in recent polls, was the night's underdog, standing up to Trump regarding his use of Spanish in a recent interview. Rubio rebutted Trump's statement that the United States "is a country where we speak English, not Spanish" by explaining that he learned patriotism from his Cuban-American grandfather. 
"He taught me that in Spanish. Because that was the language he was most comfortable in," Rubio said. As for voters, "If they get their news in Spanish, I want them to hear that directly from me, not from a translator at Univision."
Trump held true to his voracious attacks against other candidates and refused to apologize for controversial remarks surrounding Jeb Bush's Mexican-American wife and illegal immigrants. He also said there is "plenty of subject matter" to be had in a conversation about whether he thinks Rand Paul is "ugly."
His candid remarks went immediately viral, while his arguing with Fiorina appears to be one of the night's most noteworthy moments. 
The rest of the candidates, many of whom Trump has publicly criticized, came out swinging as well. Their attacks made it difficult for Trump to maintain the edge he's kept throughout his campaign, though he mainly stayed at or near the top of Google searches throughout the night.
The third Republican debate, hosted by CNBC, will reportedly focus on the economy and be titled "Your Money, Your Vote: The Presidential Debate on the Economy." The next GOP debate is Oct. 28 at the University of Colorado in Boulder.